When a coronary artery (an artery feeding the heart muscle) is narrowed by a buildup of fatty deposits called plaque, it can reduce blood flow. If blood flow is reduced to the heart muscle, chest pain can result. If a clot forms and completely blocks the blood flow to part of the heart muscle, a heart attack results.
Stents help keep coronary arteries open and reduce the chance of a heart attack.
Hence a stent is a tiny wire mesh tube. It props open an artery and is left there permanently.
Procedure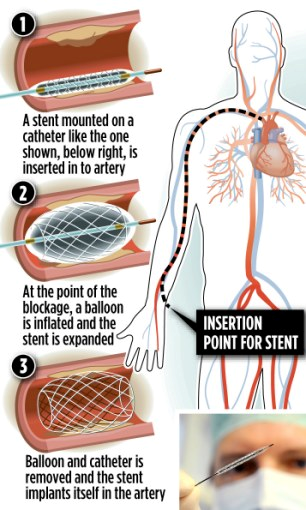 What are the advantages of using a stent?
In certain patients, stents reduce the renarrowing that sometimes occurs after balloon angioplasty or other procedures that use catheters. Patients who have angioplasty and stents recover from these procedures much faster than patients who have coronary artery bypass surgery (CABG). They have much less discomfort, too.
Emergency angioplasty is the treatment of choice during an acute heart attack, wherein the clot is crushed with a balloon and a stent is placed. It improves the chance of the patient surviving by almost 30 per cent when compared to clot dissolving medication (thrombolysis). However, in India, emergency angioplasty was carried out in less than 10 per cent of patients mainly because of the cost involved in the procedure and the lack of access to stents.
Thus the Union government has capped the prices of stents from Rs 1.80 lakh to Rs 29,600 only, cutting it by almost six times.
However, Drug price regulator NPPA has increased price of stents by around 2 per cent effective tomorrow after taking into account wholesale price index.

The prices of bare metal stents have gone up to Rs 7,400 from the earlier announced prices of Rs 7,260.

Similarly, price of drug eluting stent has increased to Rs 30,180 from Rs 29,600 earlier.

Practice question:
1. The government has recently brought stents under the list of essential medicines. What does concept of essential medicines implies?

a) The stents will be available at free of cost in government hospitals.

b) The list only comprises of medicines related to non-communicable diseases.

c) It will be brought under price control through a Drug Price Control Order (DPCO).

d) All of the above
Ans: c
Exp: Essential medicines are those that satisfy the priority health care needs of the population. Essential medicines are selected with due regard to disease prevalence and public health relevance, evidence of clinical efficacy and safety, and comparative costs and cost-effectiveness.
The "Essentiality" criteria for drugs in India is declared by the Ministry of Health and Family Welfare, through the National List of Essential Medicines (NLEM) as revised from time to time.
Essential medicines are intended to be available within the context of functioning health systems at all times in adequate amounts, in the appropriate dosage forms, with assured quality, and at a price the individual and the community can afford. It will be brought under price control through a Drug Price Control Order (DPCO).