Food Park Scheme
The Mega Food ParksScheme aims to provide a mechanism to bring together farmers, processors and retailers and link agriculture production to the market so as to ensure maximization of value addition, minimization of wastages and improving farmers' income.
Salient Features of the Scheme
The Scheme aims to facilitate the establishment of a strong food processing industry backed by an efficient supply chain, which would include collection centers, primary processing centers and cold chain infrastructure. The food processing units, under the Scheme, would be located at a Central Processing Centre (CPC) with need based common infrastructure required for processing, packaging, environmental protection systems, quality control labs, trade facilitation centers, etc.
It includes creation of infrastructure for primary processing and storage near the farm in the form of Primary Processing Centres (PPCs) and Collection Centres (CCs) and common facilities and enabling infrastructure like roads, electricity, water, ETP facilities etc. at Central Processing Centre (CPC). These PPCs and CCs act as aggregation and storage points to feed raw material to the food processing units located in the CPC.
The spirit of the guidelines of the Mega Food Parks Scheme is to facilitate setting up of only food processing industries. Accordingly, only food processing industries that make food products fit for human/animal consumption may be permitted to be set up in the Mega Food Parks. Packaging facilities of food products as ancillary to the food processing industries may also be allotted land in the Mega Food Parks.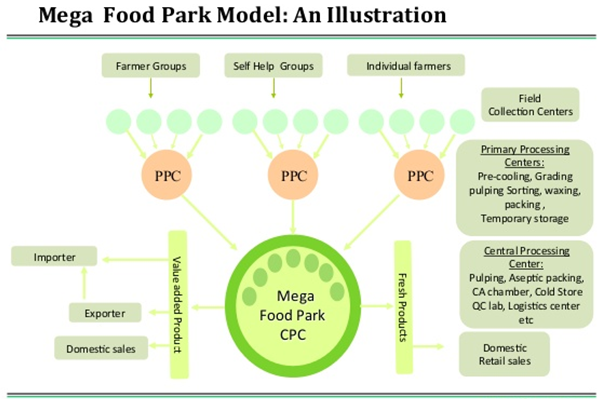 Functioning of Mega Food Parks is closely monitored by the Ministry through a well-established mechanism as per the scheme guidelines. This includes detailed scrutiny of the periodical progress reports of the project by the Programme Management Agency (PMA) and the Ministry, verification of the bills by the Project Management Consultant (PMC) before release of the funds from the bank account maintained for the purpose, site visits of the projects by the PMA and Ministry officers, periodic review meetings of the progress of the projects at the level of the senior officers and Minister in the Ministry etc. Ministry monitors each project very closely and regularly.