Trade Agreements
• A trade agreement is an arrangement between two or more countries or trading blocs that primarily agree to reduce or eliminate customs tariff and non-tariff barriers on limited/substantial trade between them. It also includes tax benefits and investment guarantees.
• The most common trade agreements are of the preferential and free trade types in order to reduce (or eliminate) tariffs, quotas and other trade restrictions on items traded between the signatories. Trade Agreements can create opportunities for and help to grow Indian economy.
• India is Member of the WTO which sets out rules governing trade among the member states. India is currently engaged in Doha Development Round of world trade talks, and a strong, market-opening Doha agreement for both goods and services would be an important contribution to addressing the global economic crisis.
• India has trade agreements with many countries which build on the foundation of the WTO Agreement, with more comprehensive and stronger disciplines than the WTO Agreement.
• Many of our trade agreements are bilateral agreements between two governments. But some, like the South Asian Free Trade Agreement (SAFTA), Asia Pacific Trade Agreement (APTA), and the India-ASEAN Trade in Goods Agreement are multilateral agreements among several parties.
• Another important type of trade agreement is the Trade and Investment Framework Agreement (TIFA) which provide frameworks for governments to discuss and resolve trade and investment issues at an early stage. These agreements are also a means to identify and work on capacity-building.
• India also has signed a series of Bilateral Investment Treaties (BITs) help protect private investment, develop market-oriented policies in partner countries, and promote exports.
• There are various stages of economic integration as follows:
a) Preferential Trade Agreement
b) Free Trade Agreement
c) Trade & Economic Partnership
d) Customs Union
e) Common Market
f) Economic Union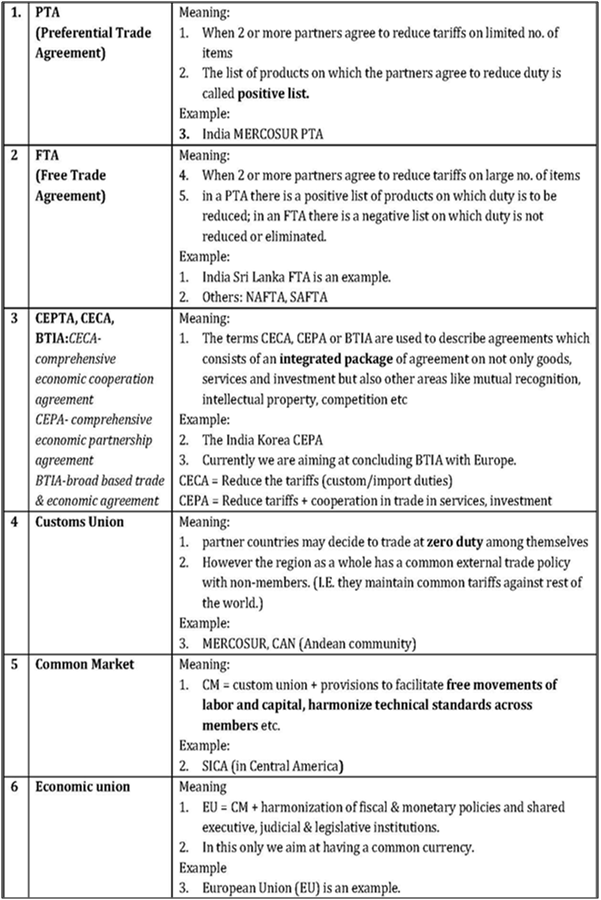 TPP (TRANS-PACIFIC PARTNESHIP) AGREEMENT
Trans-Pacific Partnership agreement among the 12 Pacific Rim nations – which together account for 40% of the world trade – was agreed in October 2015.
What is the Trans-Pacific Partnership (TPP)?
In June 2005, a trade pact, the Trans-Pacific Strategic Economic Partnership Agreement, was signed on the sidelines of Asia-Pacific Economic Cooperation (APEC) Ministers. In January 2008, the US entered into talks with Pacific Rim countries on trade liberalization in financial services that eventually set the stage for the Trans-Pacific Partnership or TPP.
The TPP was broad-based to include 12 Pacific Rim countries. Apart from the US and the four original APEC members, it includes Japan, Malaysia, Vietnam, Australia, Canada, Mexico and Peru. The agreement aims at slashing tariffs on most goods traded between these countries, and the creation of a unified market like in Europe.
Which goods and services have been included?
A full range – tariffs will be removed immediately in some cases, and phased out over time in others. Japanese carmakers like Toyota, Nissan and Honda will benefit from cheaper access to the US, their biggest export market. US vehicle exports too would find new markets if tariffs of up to 70% in countries such as Vietnam and Malaysia are slashed.
US farmers and poultry firms stand to benefit; other foods that would see lower taxes include dairy, sugar, wine, rice and seafood, with exporter countries such as Australia and New Zealand benefitting. Liberalized free trade is likely in services. The challenge for negotiators was to find meeting ground on concerns raised by disparate stakeholders from Canadian dairy farmers to Japanese rice cultivators. An adverse impact could be seen in the biotech sector.
What is the opposition to the deal?
The five-year talks have been largely secret, and campaigners have criticized the lack of transparency. The negotiations focused on keeping China at bay. The TPP will intensify competition between countries' labour forces. Labour groups are worried it would result in jobs moving from economies such as the US to countries with lower wages and less strict labour laws. Vietnam is being seen as a big winner – analysts predict the deal would boost its growth by over 10% in the next decade – while economies such as Peru might suffer.
How will the larger WTO negotiations be impacted?
WTO negotiations have been plagued by missed deadlines and a lack of consensus. The Doha Development Round is clearly dead, and the outlook for upcoming talks at Nairobi in December is not promising. As a forum, the WTO is clearly crumbling, considering there are two other large regional trade agreements currently under negotiation – the Transatlantic Trade and Investment Partnership (TTIP) between the US and the European Union, and the Regional Comprehensive Economic Partnership (RCEP) between the Association of Southeast Asian Nations (ASEAN) and its six free-trade partners, including China and India.
What can be the impact of the TPP on India?
Pacts like the TPP and TTIP could erode the demand for Indian products in traditional markets such as the US and EU, benefitting the partners to these agreements. Vietnam is expected to gain at the expense of India in the garments business in the US market, as it will have zero-duty access to the US for textiles as against the 14-30% duties that Indian exporters will have to pay.
Recent news
USA has formally abandoned the ambitious, 12-nation Trans-Pacific Partnership brokered by his predecessor and declared an end to the era of multinational trade agreements that defined global economics for decades.
REGIONAL COMPREHENSIVE COMPREHENSIVE ECONOMIC PARTNERSHIP (RCEP) 
What is RCEP?
Regional Comprehensive Economic Partnership (RCEP) is a proposed Free Trade Agreement (FTA) between the 10 member states of the Association of Southeast Asian Nations (ASEAN) (Brunei, Burma (Myanmar), Cambodia, Indonesia, Laos, Malaysia, the Philippines, Singapore, Thailand, Vietnam) and the six states with which include India, China, Australia, Japan, South Korea and New Zealand.
RCEP countries have a total population of more than 3 billion, a total GDP of around USD 23 trillion, and they account for about 27% of global trade and 55% of our goods exports.
The RCEP is envisaged to be a modern, comprehensive, high-quality and mutually beneficial economic partnership agreement.
What are the objectives of RCEP?
Guiding Principles and Objectives for Negotiating the Regional Comprehensive Economic Partnership are trade in goods, trade in services, investment, economic and technical cooperation, intellectual property, competition, and dispute settlement.
Significance of RCEP for India
• From India's point of view, the RCEP presents a decisive platform which could influence its strategic and economic status in the Asia-Pacific region and bring to fruition its Act East Policy. The RCEP agreement would complement India's existing FTAs with the ASEAN and some of its member countries, as it would deals with Japan and South Korea.
• India is not a party to two important regional economic blocs: the Asia-Pacific Economic Cooperation and the Trans-Pacific Partnership. The RCEP would enable India to strengthen its trade ties with Australia, China, Japan and South Korea, and should reduce the potential negative impacts of TPP and TTIP on the Indian economy.
• RCEP will facilitate India's integration into sophisticated "regional production networks" that make Asia the world's factory. The RCEP is expected to harmonize trade-related rules, investment and competition regimes of India with those of other countries of the group. Through domestic policy reforms on these areas, this harmonization of rules and regulations would help Indian companies plug into regional and global value chains and would unlock the true potential of the Indian economy. There would be a boost to inward and outward foreign direct investment, particularly export-oriented FDI.
• India enjoys a comparative advantage in areas such as ICT, IT-enabled services, professional services, healthcare, and education services. In addition to facilitating FDI, the RCEP will create opportunities for Indian companies to access new markets. This is because the structure of manufacturing in many of these countries is becoming more and more sophisticated, resulting in a "servicification" of manufacturing.
• India is well placed to contribute to other countries in RCEP through its expertise in services, not only consolidating the position of the region as the world's factory but also developing it as the world's hub for services.
• India may emerge as an attractive investment destination for China. To offset the increasing labour costs, Chinese firms have been relocating labour-intensive manufacturing to Vietnam, Cambodia, Thailand and Indonesia.
• By setting up manufacturing joint ventures in India, China can effectively reach India's domestic market and also a large European market once India signs an FTA with the European Union. If this story plays out, India's trade deficit with China will come down as well.
SAFTA
The South Asian Free Trade Area (SAFTA) is an agreement reached on 6 January 2004 at the 12th SAARC summit in Islamabad, Pakistan. It created a free trade area of 1.6 billion people in Afghanistan, Bangladesh, Bhutan, India, Maldives, Nepal, Pakistan and Sri Lanka (as of 2011, the combined population is 1.8 billion people).
The purpose of SAFTA is to encourage and elevate common contract among the countries such as medium and long term contracts. Contracts involving trade operated by states, supply and import assurance in respect of specific products etc. It involves agreement on tariff concession like national duties concession and non-tariff concession.
The objective of the agreement is to promote competition in the area and to provide equitable benefits to the countries involved. It aims to benefit the people of the countries by bringing transparency and integrity among the nations. SAFTA was also formed in order to increase the level of trade and economic cooperation among the SAARC nations by reducing the tariff and barriers and also to provide special preference to the Least Developed Countries (LDCs) among the SAARC nations.