Transport
An efficient transport system is a pre-requisite for sustained economic development. It is not only the key infrastructural input for the growth process but also plays a significant role in promoting national integration, which is particularly important in a large country like India. The transport system also plays an important role of promoting the development of the backward regions and integrating them with the mainstream economy by opening them to trade and investment.
India has a well-developed transport network comprising rail, road, coastal shipping, air transport, etc.
                                               Road transport
India has an extensive system of roads that plays a vital role, as far as the national economic growth of the country is concerned.
Data:
• World's second largest road network – 4.87 million km.
• 97,135 kms of national Highways.
• NHs are 2% but carry 40% of the traffic.
• 65% of freight & 80% passenger traffic carried by roads.
• Implementation Authorities – NHAI, State PWDs etc., BRO, newly formed NHIDCL for projects at border and other strategic locations.
• Project implementation modes for highways in India.
a. Build-Operate-Transfer (BOT) – Toll
b. BOT – Annuity
c. Hybrid Annuity Model
d. Engineering, Procurement and Construction (EPC) – Public funded.
Benefits of roads transport
1. Roads play a very important role in the transportation of goods and passengers for short and medium distances.
2. It helps farmers to move their perishable agricultural products soon to markets and mandis. Thus encourage farmers to switch to more commercially viable agricultural products.
3. Road transport system establishes easy contact between farms, fields, factories and markets, thus leading to better linkage between consumer and producer.
4. Mobility is one of the most fundamental and important characteristics of economic activity as it satisfies the basic need of going from one location to the other, a need shared by passengers, freight and information. Road transport provides a better mobility that leads to economic development.
5. It is suitable for transportation of both perishable and non-perishable goods, controlling the price level in the economy.
6. It is a relatively cheaper mode of transport as compared to other modes.
7. It is a flexible mode of transport as loading and unloading is possible at any destination. It provides door-to-door service.
8. It helps people to travel and carry goods from one place to another, in places which are not connected by other means of transport like hilly areas.
Classification of Roads
1. National Highways: These roads are of prime importance for the country and connect large cities and big industrial centers. There development and maintenance is the responsibility of the central government.
2. State Highways: These roads connect all the important centers of industry, trade and commerce of the states and the national highways. There responsibility of the development and maintenance lies with the state government.
3. District Roads: These roads connect different parts of the district, important industrial centers and market centers and usually lead to local railway stations. The responsibility of development and maintenance lies with the local government.
4. Rural Roads: These are roads found in the villages and are usually of two types; pukka (metal) and kacha (non metal). The responsibility of maintenance and development lies with the local government.
Major National Highways in India
The few important national highways along with their routes are discussed below:
• NH1 – Delhi – Ambala – Jalandhar – Ludhiana – Amritsar – Wagah Border.
• NH1A – Jalandhar – Jammu – Udhampur – Banihal – Srinagar – Baramula – Uri.
• NH1D – Srinagar – Kargil – Leh.
• NH2 – Delhi – Agra – Allahabad – Kolkata.
• NH3 – Agra – Gwalior – Indore – Dhule – Nasik-Mumbai.
• NH4 – Thane – Pune – Bangalore – Chennai. (Mumbai – Pune-1st 6 lane express highway)
• NH 5 – Baharagora – Cuttack – Bhuvaneshwar – Vishakhapatnam – Chennai.
• NH6 – Hazira – Surat – Dhule – Nagpur – Raipur – Baharagora – Kolkata.
• NH7 – Varanasi – Nagpur – Hyderabad – Bangalore- Kanyakumari (Longest Highway)
• NH8 – Delhi – Jaipur – Ajmer – Udaipur-Ahmedabad – Vadodara – Surat – Mumbai.
• NH 24 – Delhi – Moradabad – Bareilly – Lucknow
• NH 47A – Kundannur – Willington Island in Kochi (Shortest NH – 6 km)
Different projects
A. National Highways Development Project (NHDP)National Highways Development Project (NHDP)
NHDP is being implemented by NHAI. NHDP Phases are:
Phase I: Golden Quadrilateral.
Phase II: North-South and East-West corridors.
Phase III: Upgrade 12,109 km of national highways on a Build, Operate and Transfer (BOT) basis.
Phase IV: Convert existing single lane highways into two lanes.
Phase V: Upgrade four lane highways to six lanes.
Phase VI: Expressways.
Phase VII:  Improvements to city road networks.
Golden Quadrilateral Highway Network
Golden Quadrilateral is a network of highways connecting India's four top metropolitan cities, namely Delhi, Mumbai, Chennai and Kolkata, thereby, forming a quadrilateral.
The overall length of the quadrilateral is 5,846 km consisting of four/six lane express highways.
N-S and E-W corridor
The North-South–East-West Corridor (NS-EW) is the largest ongoing highway project in India. It will connect Srinagar with Kanyakumari and Porbandar with Silchar. The meeting point of the two corridors is at Jhansi.
B. New Initiatives
1. Bharat Mala – 5500 km to develop roads along the international borders and coastal areas.
2. Special Scheme – 6000 km roads facilitating connectivity to religious/tourist places and providing connectivity to backward regions.
3. District Connectivity –  Development of National Highways providing connectivity to district headquarters.z
4. Setu Bharatam – All the level crossings and narrow/weak bridges to be replaced by Railway Over / Under Bridges and new constructions.
Major policy initiatives
The Government has progressively taken many policy decisions in the sector, designed to facilitate the execution of work and make it speedier, more efficient and transparent. Some of the major initiatives of 2015 are as follows:
a) The Exit Policy framework permits concessionaires/developers to divest 100 percent equity and exit all operational BOT projects two years after completion of construction. This would help unlock equity from completed projects making it potentially available for investment into new infrastructure projects across the country.
b) Fund Infusion to Salvage Languishing Projects: This initiative authorizes the National Highways Authority of India (NHAI) to intervene in projects that are in the advanced stage of completion but are stuck due to lack of funds. NHAI has been authorized to provide funds to such projects from within its overall budget/corpus on a loan basis at a pre-determined rate of return.
c) Rationalized compensation to concessionaires for languishing NH projects in BOT mode for delays not attributable to concessionaires:
d) A new mode of delivery under Public-Private Partnership (PPP) mode, namely Hybrid Annuity Model, is being promoted for awarding road projects for implementation under which 40% of project cost is being provided by the Government to the concessionaire. Remaining 60% is to be arranged in form of debt and equity to be compensated over 15 years as bi-annual annuities. The private party does not have to bear the traffic risk.
e) National Highways Authority of India is raising funds through public issue of tax free, secured, redeemable non-convertible bonds with Face Value of Rs 1,000 each for an amount of Rs 1,000 crore with an option to retain over subscription of upto additional Rs 9,000 crore,  aggregating upto a total of Rs 10,000 crore.
                                                   Railways
The Indian railway system is the second largest system in the world under the single management. Railways virtually forms the life-line of the country, catering to its needs for large scale movement of traffic, both freight and passenger, thereby contributing to economic growth as well as promoting national integration. It is a multi – gauge system operating on three gauges – the broad, the metre and the narrow.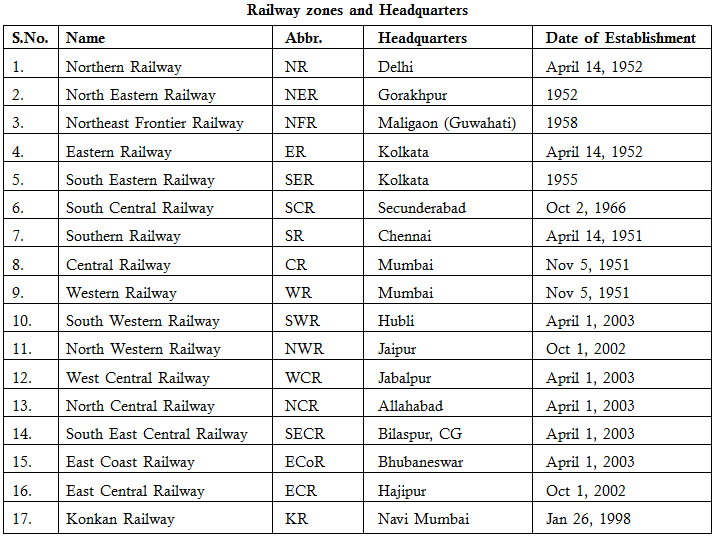 Effect on Indian economy
• The construction and expansion of the railways have been proved to be beneficial for the economic and inclusive growth of the economy. It provides a better linkage between producer, retailer and consumer.
• It has played a significant role in the development of cotton textile industry, jute industry as it provides free flow of raw materials with proper penetration to market areas.
• Railways have been very helpful in the development of Indian agriculture. Now farmers can send their agricultural goods to distant places and can fetch good incomes.
• Railways also help in maintaining uniform price level for agricultural products through better movement.
• New industrials hubs have emerged as higher mobility of raw materials reduced the concentration of industries mainly around raw material centres. As Kanpur is known for cotton garments whereas the raw materials are present in Maharashtra and Gujarat.
• Railways are playing significant role in running country's administration and safeguarding its freedom and integrity, as it provides easy movement of police, troops, defence equipments etc.
Problems and Issues in Railway's Development
1. Problem of acquiring land.
2. Indian Railways has suffered from chronic and significant under-investment as a result of which the network expansion and modernization has not happened at the requisite pace leading to an erosion of the share in national freight and passenger traffic.
3. Cleanliness, punctuality of services, safety, quality of terminals, capacity of trains, quality of food, security of passengers and ease of booking tickets are issues that need urgent attention.
4. The high density networks of the Indian Railways are facing acute capacity constraints coupled with a low passenger fares thereby leading to increases in freight tariffs to cross subsidize passenger revenues.
5. Investments in safety have also suffered on account of low internal generation of resources.
Environmental side effects
1. The laying of new tracks requires clearance of forests that affects the biodiversity and forest dwellers both.
2. Due to presence of railway track in elephant corridor accidents and death of elephants take place.
3. For the establishment of railway tracks in hilly areas dynamites are used to break hills which in turn cause air pollution as well as lead to frequent landslides.
                                                Water Transport
Waterways provide the cheapest-means for transportation of commodities in bulk because there is no fixed cost associated with them. Costly construction of routes is not required.
Inland waterways
India has about 14,500 km of navigable waterways which comprise rivers, canals, backwaters, creeks, etc. However, there is a number of conditionality attached to the river transport, viz:
(a) The rivers must have enough water flowing in them althrough the year;
(b) The rivers must be free from waterfall or rapids;
(c) The rivers must have stabilized courses;
(d) The rivers must not have fluctuating regimes;
(e) The rivers must flow in the right direction; i.e., the direction of dominant trade flows.
Impediments to the Growth of IWT
• Insufficient depths throughout the stretch of navigable waters.
• Excessive siltation in major rivers from erosion of uplands and deforestation.
• Navigation being relegated to the fourth position due to priorities to drinking water, irrigation and power (hydel) sectors that results in reduced draft.
• Non-availability of low draft high technology vessels.
• Non-availability of adequate navigational aids resulting in restricted sailing over long periods of time.
• Non-availability of permanent terminals with adequate infrastructure for loading/unloading, storage etc.
• Non-availability of bulk commodities along the water front.
• Non-availability of return cargo on most of the routes.
Advantages of IWT
• Low capital cost- Cost of development of inland waterway has been estimated to be a mere 5-10 percent of the cost of developing of an equivalent 4-lane highway or railway.
• Low maintenance cost- Cost of maintenance of inland waterway is placed at 20 percent of that of roads.
• Low fuel cost- Inland Water Transport is a highly fuel-efficient mode of transport. This fact is borne out by the estimate that one litre of fuel can move 24 tonnes/km of freight by road, 85 by rail and 105 by IWT.
• Cost-effective transport mode- It has also been estimated that diversion of one billion tonne-km of cargo to the IWT mode will reduce transport fuel costs by 5 million USD and the overall transport costs by 9 million USD.
• Need for Infrastructure building- An analysis of the need for building essential infrastructure like mechanized handling at terminals and night navigation facilities reveals how these can translate into reduction of cost of transportation per tonne-km (TKM) over short haul as well as long haul carriage by IWT. It was observed that the TKM cost of movement would come down from the present Rs.3.55 to Rs.1.44 for a short haul of 100 km and from Rs. 0.95 to 0.39 for a long haul of 2000 km.
Seaports in India
The coastline of India is dotted with 12 Major Ports and about 200 Non-major Ports.
• Kandla – It is a tidal port located at the eastern end of Gulf of Kuchchh.
• Mumbai – It is situated on Salsette Island on the western coast. It is a natural harbour and the largest port of India handling about 1/5th of India's foreign trade.
• Jawaharlal Nehru port – It has been built at Nhava Sheva Island across the Elephanta caves, about 10 km from Mumbai. Main objective is to relieve the pressure on the Mumbai Port.
• Marmagao – It is a natural port located at the entrance of Zuvari estuary in Goa.
• New Mangalore – Located at the southern tip of Karnataka coast, north of Gurpur River.
• Kochi – A natural harbour on the western coast of Kerala (in Vembanad Lake).
• Tuticorin – It is an artificial deep sea harbour in Tamil Nadu, north of Adam Bridge and east of Sri Lanka.
• Chennai – It is the oldest artificial port on the eastern coast of India.
• Ennore: Recently developed to reduce pressure of traffic on Chennai port. It is located slightly north of Chennai on T.N. coast. It is country's first corporate port.
• Vishakhapatnam – It is the deepest land-locked and protected port at the coast of Andhra Pradesh.
• Paradeep – It is a deep-water & all weather port on Orissa coast in Mahanadi delta region.
• Kolkata-Haldia – It is a river rine port located on the west bank of the Hooghly River.
New initiatives
A. Sagarmala project
• Sagarmala will lead to large scale employment generation of skilled and semi-skilled manpower. Industrial clusters and parks, large ports, maritime services, logistics services, and other sectors of the economy will be directly and indirectly impacted by port-led development under Sagarmala.
• It will result in sustainable development of the population living in the Coastal Economic Zones (CEZ) by synergising and coordinating with State Governments and line Ministries of Central Government through their existing schemes and programmes such as those related to community and rural development, tribal development and employment generation, fisheries, skill development, tourism promotion etc.  Today about 70 lakhs persons are dependent on fisheries for their livelihood.
B. Jal Marg Vikas Project
• The Project's objective is to provide an environment friendly, fuel efficient and cost-effective alternative mode of transportation, especially for bulk goods, hazardous goods, captive cargo and over dimensional cargo.
• The projects include construction of terminals, jetties, river training and conservancy works, modern automated information system, navigation aids, etc.
Issues in sea transport
• Most major ports were originally designed to handle specific categories of cargo which have declined in time while other types of cargoes gained importance. The ports have not been able to adjust to the categories of cargo which grew the most. There are thus several berths for traditional cargo, which are under-utilised, and only a few for new cargo, which are overutilised.
• Equipment utilisation is very poor both because equipment is obsolete and poorly maintained.
• Over staffing at Indian ports remains rampant and productivity indicators in respect of cargo and equipment handling continue to be poor.
• Documentary procedures relating to cargo handling such as customs clearance requirements are unduly complicated and time consuming. Electronic document processing is still to be introduced in all the ports.
• Port access facilities and arrangements for moving in-bound and out-bound cargo are inadequate and unsatisfactory.
• Absence of inter-port and intra-port competition which have been conductive to substantial productivity increases in other countries is absent in Indian due to poor inland connectivity and a policy regime that protected domestic ports against competitive pressures.
                                                Air Transport
Aviation as an infrastructure segment has played vital role in facilitating the growth of business and economy in India. A robust civil aviation set-up is key to seamless flow of investment, trade and tourism, with significant multiplier effects through the economy.
International Airports: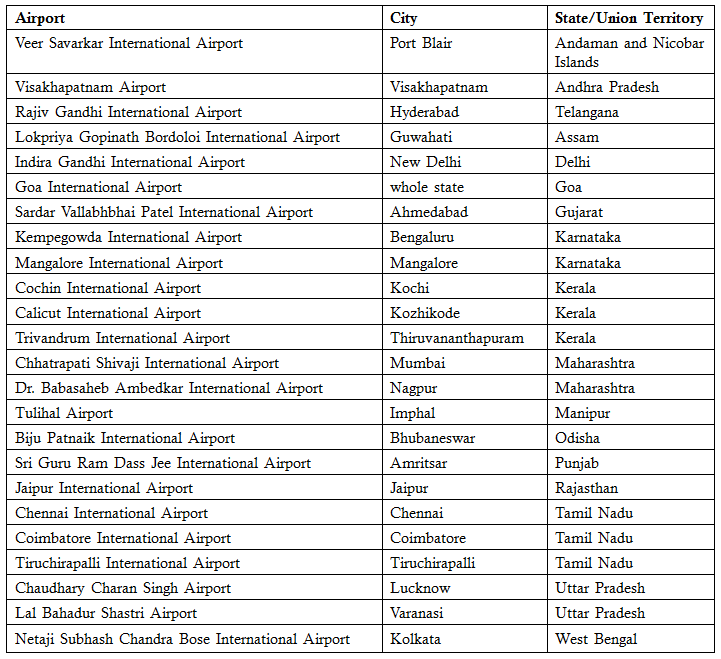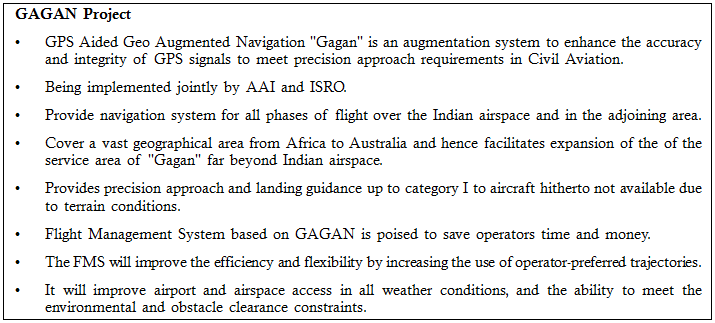 Public Private Partnership in Transport Sector
Meaning
• Public Private Partnership means an arrangement between a government / statutory entity / government owned entity on one side and a private sector entity on the other, for the provision of public assets and/or public services, through investments being made and/or management being undertaken by the private sector entity, for a specified period of time, where there is well defined allocation of risk between the private sector and the public entity and the private entity receives performance linked payments that conform (or are benchmarked) to specified and pre-determined performance standards, measurable by the public entity or its representative.
Different types of PPP
1. BOT-Toll (Build Operate Transfer – Toll) : The private entity meets the upfront cost of design, construction and recurring cost on operation and maintenance. The Private entity recovers the entire cost along with the interest from collection of user utilization during the agreed concession period. Capital infusion is available from the public entity. A risk sharing model is predominant in this model.
2. BOOT (Build Operate Own Transfer) : This engagement model is similar to the "Build Operate Transfer" model except that the private entity has to transfer the facility back to the public sector
3. Joint Venture (JV) : In a PPP arrangement commonly followed in our country (such as for airport development), the private sector body is encouraged to form a joint venture company (JVC) along with the participating public sector agency with the latter holding only minority shares. The private sector body will be responsible for the design; construction and management of the operations targeted for the PPP and will also bring in most of the investment requirements. The public sector partner's contribution will be by way of fixed assets at a pre-determined value, whether it is land, buildings or facilities or it may contribute to the shareholding capital. It may also provide assurances and guarantees required by the private partner to raise funds and to ensure smooth construction and operation.
4. Management Contract (MC) : A management contract is a contractual arrangement for the management of a part or whole of a public enterprise by the private sector. Management contracts allow private sector skills to be brought into service design and delivery, operational control, labour management and equipment procurement. However, the public sector retains the ownership of facility and equipment. The private sector is provided specified responsibilities concerning a service and is generally not asked to assume commercial risk. The private contractor is paid a fee to manage and operate services. Normally, payment of such fees is performance-based. Usually, the contract period is short, typically two to five years. But longer period may be used for large and complex operational facilities such as a port or airport.
5. BOT (Build Operate Transfer) : The private business builds and operates the public facility for an agreed period of time. Once the facility is operational as agreed, or at the end of the time period, the private entity transfers the facility ownership to the public, here it may be construed as Government. Under this category, the private partner is responsible to design, build, operate (during the contracted period) and transfer back the facility to the public sector. The private sector partner is expected to bring the finance for the project and take the responsibility to construct and maintain it. The public sector will either pay a rent for using the facility or allow it to collect revenue from the users. The national highway projects contracted out by NHAI under PPP mode is an example. This model is a classic example for IT industry
6. BOT – Annuity (Build Operate Transfer – Annuity): This model though is globally accepted one does not have the favour of the Planning Commission of India. In case of annuity model, the cost of building the entity is paid to the private entity or the developer annually after the starting commercial operations of the facility.
7. DBFOT (Design Build Finance Operate Transfer): These are other variations of PPP and as the nomenclatures highlight, the private party assumes the entire responsibility for the design, construct, finance, and operate or operate and maintain the project for the period of concession.
8. BOO (Build Own Operate): In a BOO project, ownership of the project usually remains with the Private entity. The government grants the rights to design, finance, build, operate and maintain the project to a private entity, which retains ownership of the project. In BOO the private entity is usually not required to transfer the facility back to the government
9. BOOST (Build Operate Own Share Transfer): This model is very similar to the BOOT model, except that there exists an arrangement or sharing the revenue to the private entity for a longer time even after the rights of the private entity are transferred to the public entity.
10. Hybrid Annuity Model: Under this model, the government will provide 40 per cent of the project cost to the developer to start work while the remaining investment has to be made by the developer. The main objective of the approval is to revive highway projects in the country by making one more mode of delivery of highway projects. Under this, all major stakeholders in the PPP arrangement — the Authority, Lender and the Developer, Concessionaire would have an increased comfort level resulting in revival of the sector through renewed interest of private developers/investors in highway projects and this will bring relief thereby to citizens/travelers in the area of a respective project.
Advantages of PPP model
a. Better quality since the concessionaire (private sector) is to maintain the road for the period of concession.
b. Early completion of the project, since the concessionaire could save interest and earn early toll (in the case of BOT project) / additional annuity installments (in the case of Annuity project).
c. No costs overrun (price escalation).
d. The Client (Government/NHAI) does not have the burden of maintaining the highways.
e. Involving the private sector leads to greater efficiency.
f. The private sector has more flexible procurement and decision-making procedures and therefore, it can speed up implementation efforts.