Chhattisgarh's flagship economic model, that started as cow dung procurement & organic fertiliser production scheme in 2020 is helping state give rural economy and women empowerment, a push.
Chhattisgarh's 'gobar (cow dung) economy'.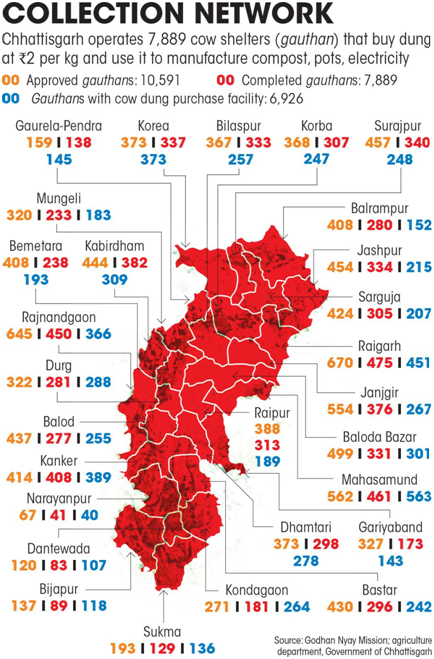 />

Different Phases of the Scheme
1st Phase - 'GodhanNyayYojana'- Under the scheme,
GauthanSamitis will procure cow dung at Rs 2 per kilogram from livestock owners and use it to prepare organic fertilizers
Women self-help groups will repurpose procured cow dung into vermicompost and other eco-friendly items
Cooperative societies will sell vermicompost at Rs. 8/- per kg to the farmers to promote organic farming

This is much cheaper than chemical fertilisers, priced at Rs 48 to 50 a kg.
Distribution of vermin-compost fertilizer to farmers will be done as a commodity loan by cooperative societies, and banks
How the GodhanNyayYojana is helping the rural economy?
This is a part of the larger perspective of going back to villages, reviving the rural economy and generating sustainable rural livelihood, as 80 per cent of the state's population lived in villages.
helping generate additional income and increase employment opportunities, especially for women
preventing open grazing and straying of cattle on streets
encouraging use of organic fertilisers and minimise use of chemical ones
helping enhance fertility of crops and availability of chemical fertilizers, which will further enhance the nutrition level of crops
with protection of crops and reduced cost of cultivation, it is helping increase acreage
encouraging dairy and animal husbandry and increasing milk production
Plans are also afoot to diversify the cow dung product range by manufacturing items like paint, phenyl and gaukasht (cow-dung log, used in funerals).
Enhancing confidence: Getting women into the public space is important. It affects their confidence and their psychology.
2nd phase - Chhattisgarh GauthanNirman Scheme:
Gauthans have been constructed under Narva, Garwa, Ghurva, Bari (NGGB) scheme
gauthans are sheds where cattle could be kept for the day and looked after
The cow dung collected here would then be sold to the government

These gauthans gradually started housing vermicompost pits

Employees included women from SHGs in the villages in which the gauthans were located.
Various activities like poultry farming, broom making, idol making work are being carried out under one roof along with the sale of compost manure
Gauthans produce raw materials, like herbal extracts, which are then used in making things like soaps and perfumes.
While some women have started their own businesses at the gauthans, others work for a fixed wage that the SHGs payout.
On average, the gauthans provide eight hours of fixed daily work to about 30-40 women in the villages where they're set up
According to the government policy, the land and infrastructure for the setting up of the gauthan come from the local gram panchayat, which buys the land and then ensures that it has adequate water supply, sheds for cows, pits for vermicompost etc.
The state administration plays a crucial role in terms of first identifying a strip of land large enough to serve its purpose.
District officials convince gram panchayats to use monetary grants and other funds to set up the gauthans
Government figures peg the number of operational gauthans in Chhattisgarh at approximately 8,400.
/>
3rd Phase - Rural Industrial Park
The state government is now in the process of transforming these gauthans into 'rural industrial parks', or centres for cottage industries that the government hopes will create retail products that can "compete with the market"
The aim is to increase economic activities in rural areas and empower the rural populace to create avenues of income for themselves
A rural industrial park is essentially a large area that is expected to house cow sheds, vermicompost pits, and infrastructure for cottage industries like vegetable farming, perfume-making, pisciculture, poultry-farming, textile work, and more.
It is meant to be like a co-working space for women in SHGs who want to run their own businesses.
The parks are also supposed to be centres where villagers can be trained in the skills required to run such businesses and create such products.