Death anniversary of Uda Devi
Context
November 16 marks the death anniversary of Uda Devi, the Dalit freedom fighter.
About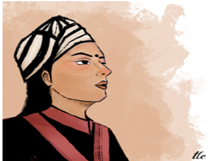 Uda Devi was a freedom fighter from the 'Pasi' community.
She managed to mobilise people — especially Dalit women — to take up arms against the British.
Born in Ujirao, Lucknow, she was part of the royal guard of Begum Hazrat Mahal of Awadh.
Her husband, Makka Pasi, worked as a foot soldier in the army of Awadh's Nawab, Wajid Ali Shah.

Amid the revolt of 1857, on June 10, at Chinhat near Ismailganj, a battle was fought between the army of Lucknow and the British troops led by Henry Lawrence, in which Makka Pasi lost his life.
The death of her husband spurred Uda Devi on to take up a more active role in the mutiny.

On November 16, 1857, Uda Devi was among the soldiers who clashed with the British regiment stationed near the 'Gomti River'.
Women Participation in 1857 Freedom struggle:
Rani Laxmi Bai: Lakshmi Bai is remembered for her valour during the Indian Mutiny of 1857–58.
Baiza Bai: As a prominent opponent of the East India Company, she was eventually ousted from power and replaced on the throne by her adopted son Jankoji Rao Scindia II despite the Doctrine of Lapse was at peak.
Helen Lepcha alias 'Sabitri Devi': She was an unsung freedom fighter who helped Netaji Bose escape and fought alongside Mahatma Gandhi in the Non-Cooperation movement.
Rani Gaidinliu (Rani of the Nagas): She led a revolt against British rule in India. At the age of 13, she joined the Heraka religious movement. Jawaharlal Nehru gave her the title of "Rani" (Queen), and she gained local popularity as Rani Gaidinliu.
Verifying, please be patient.