Hagia Sophia: The story of a World Heritage Site
Context
Hagia Sophia has survived through various transformations, it has been a cathedral, a mosque, a museum, and now back to being a mosque. After being opened as a mosque, the site has hosted over 6.5 million viewers in the last two years.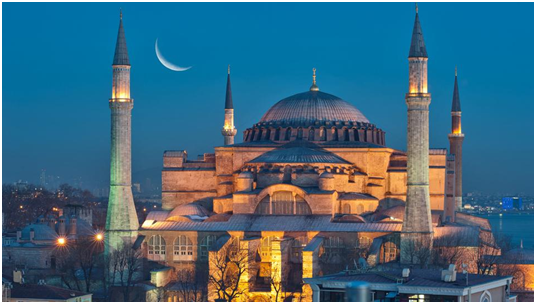 About
About the Site
The Hagia Sophia is a historic place of worship in Istanbul, Turkey, in Eastern Europe.
It is the national landmark of Turkey, located at the center of the capital Istanbul.
It was built by the Roman empire as the basilica in 537 AD.
Church
The original church on the site is said to have been built by Constantine I in 325 on the foundations of a pagan temple.
It was damaged in 404 by a fire that erupted during a riot following the second banishment of St. John Chrysostom, then patriarch of Constantinople.
It was rebuilt and enlarged by the Roman emperor Constans I.
The restored building was rededicated in 415 by Theodosius II.
The church was burned again in the Nika insurrection of January 532.
Hagia Sophia was originally built as the Greek Orthodox Christian patriarchal Basilicain 537 AD by the Byzantine Roman empire during the reign of Jutinian I.
Converted into mosque: It was converted into a mosque by the Mehmed the Conquerer of Ottomon empire in 1453.
Converted into museum: It remained a mosque until 1931, and was opened as a museum in 1935 by the Republic of Turkey.
Structure of the Heritage Site
The Hagia Sophia measures 269 feet in length and 240 feet in width, with the domed roof stretching 180 feet above the ground.
Architectural Style: It was built in a grand Christian basilica style and is the most significant surviving example of Byzantine architecture.
Columns: The Hagia Sophia has 104 columns, many made of marble, imported from the Temple of Artemis in Ephesus—an ancient city near modern-day Selçuk, Turkey—and from Egypt.
It was enlisted in the world heritage site by UNESCO in 1985.
Dome: The main nave is covered by a central dome that is 107 feet in diameter and rises 180 feet above the ground
Minarets: The four minarets surrounding the main dome were later added by the Ottomon empire.

One minaret was built out of red bricks while the other three were built of white limestone and sandstone.

Verifying, please be patient.
Our Centers
DELHI (Karol Bagh)
GS SCORE, 1B, Second Floor, Pusa Road, Karol Bagh, New Delhi - 110005 (Beside Karol Bagh Metro Station Gate No. 8)
BHUBANESWAR (Jaydev Vihar)
GS SCORE, Plot No.2298, Jaydev Vihar Square, Near HCG Day Care, BBSR - 751013
LUCKNOW (Aliganj)
GS SCORE, 2nd Floor, B-33, Sangam Chauraha, Sector H, Aliganj, Lucknow, UP - 226024