India gets its first nasal (mucosal vaccines) COVID vaccine
Context
The Drugs Controller General of India (DCGI) has approved the country's first intra-nasal Covid-19 vaccine Bharat Biotech's iNCOVACC for restricted emergency use in those aged above 18 years.
It's only the second vaccine in the world, after CanSino Biologics' vaccine in China, to get regulatory approval.
About
Bharat Biotech's iNCOVACC:
The vaccine has been developed by Bharat Biotech with technology in-licensed from Washington University-St Louis.
iNCOVACC is a chimpanzee adenovirus vectored recombinant nasal vaccine that has been specifically formulated to allow intra-nasal delivery through nasal drops.
The nasal delivery system has been designed and developed to be cost-effective in low- and middle-income countries.
The vaccine is stable at 2-8°C.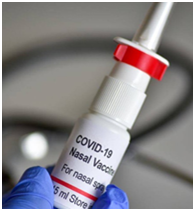 Mode of working of the nasal vaccine:
The vaccine is given nasally, it triggers an immune response in the mucosal membrane.
Intra-nasal Covid-19 vaccines may produce local antibodies in the upper respiratory tract which may provide the potential to reduce infection and transmission.
Therefore, it can stop the virus from replicating at its entry and spreading to the lungs and other parts of the body.
The intra-nasal vaccine stimulates a broad immune response – neutralizing IgG, mucosal IgA, and T Cell responses.
Immune responses at the site of infection (in the nasal mucosa) are essential for blocking both infection and transmission of Covid-19.
Significance of Mucosal Vaccines:
Spillover antibodies: It has the potential to induce local (mucosal) immunity at the point of entry of the virus. It could ensure the presence of spillover antibodies on the nasal mucosa. The nasal area is the spot through which the Sars-CoV-2 virus enters the body.
No need for Needles: With the vaccine being delivered through a nasal spray, it will do away with the need for needles and syringes currently required for all the Covid-19 vaccines available.
No need for trained staff: It will also reduce dependence on personnel trained to give shots.
Verifying, please be patient.
Our Centers
DELHI (Karol Bagh)
GS SCORE, 1B, Second Floor, Pusa Road, Karol Bagh, New Delhi - 110005 (Beside Karol Bagh Metro Station Gate No. 8)
BHUBANESWAR (Jaydev Vihar)
GS SCORE, Plot No.2298, Jaydev Vihar Square, Near HCG Day Care, BBSR - 751013
LUCKNOW (Aliganj)
GS SCORE, 2nd Floor, B-33, Sangam Chauraha, Sector H, Aliganj, Lucknow, UP - 226024