India's demography at crossroads: elderly may outnumber the youth
Context
Ministry of Statistics and Programme Implementation has released 'Youth in India 2022' report.
Background
After the new economic policy in 1991, India had experienced a demographic transition with increasing share of young age population.
The story of demographic dividend, where the young age population serves as the spine of the economy, continues till 2016.
Report from UN World Population Prospects has cited that India will outnumber China in the next year, attaining the first place in the size of population.
The window of demographic dividend is on closing phase as, India is experiencing a downward trend in the share of young age population and rise in old age population.
Analysis
Key Highlights of the 'Youth in India 2022' report:
The number of young people is expected to increase initially but start to decline in the second half of the 2011-2036 period.
Youth in the 15-29 age group will make up 27.2 percent of the population in 2021, which is expected to decrease to 22.7 percent by 2036.
The more populous states of Bihar and Uttar Pradesh, which saw an increase in the proportion of the youth population to the total population by 2021, are expected to decline.
States like Kerala, Tamil Nadu and Himachal Pradesh are expected to see a higher number of elderly people than young people by 2036.
Definition of Youth:
No universal definition: There is no universal definition of youth, various departments and organisations provide their own definitions.
Definitions from various institutions:
| | |
| --- | --- |
| Organisations/ Institutions | Age Group |
| UN Secretariat/UNESCO/ILO/WHO/UNFPA | 15-24 |
| UN Habitat (Youth Fund) | 15-32 |
| UNICEF | Under 18 |
| African Youth Charter | 15-35 |
| National Youth Policy, 2014 | 15-29 |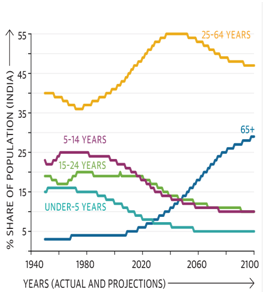 What are the major concerns highlighted in the Youth India Report 2022?
Declining young population:The proportion of youth to population has increased from 26.6% in 1991 to 27.9% in 2016, and projected to begin a declining trend reaching to 22.7% till 2036.
Increasing old aged population: The old aged population has increased from 6.8% in 1991 to 9.2% in 2016, and expected to increase touch 14.9% in 2036
Demographic transition: India's window for demographic dividend is closing as the share of the youth population is on a declining trend and the share of the old aged population is increasing.
Demographic disaster: Demographic dividend with appropriate education and skill development, increasing the risk of demographic disaster.
Increasing dependency ratio: Rising old aged population will increase nation's dependency ratio.
Decline in national savings: Increased dependency ratio will create a negative impact on the position of national savings.
Impact on investment: Declined national savings reduces the investment capacity of the nation.
Demand for health care:A greater proportion of youth at present will result in a greater proportion of elderly in the population in future, creating a demand for better healthcare facilities.
Social security: Increased old aged population will put pressure on social security and the public welfare system.

What are the major issues with India's population?
Education and population growth: Poverty and illiteracy have been subjected to high population growth.
Unemployment: High youth unemployment serves as the catalyst in the process of transforming demographic dividend into demographic disaster.
Resource scarcity: India with 2% of world's total landmass accommodates around 17% of world's total population, putting an additional pressure on resource allocation and availability.
Fast growth: A mismatch in the death rate and birth rate contributing to faster growth rate.



What measures can be taken?
Productive job creation: Creation of more productive jobs can help to utilize the demographic dividend.
Expansion of manufacturing sector: Manufacturing sector needs to foster to create more opportunities for jobs and employment.
Universal Health care facilities: More numbers of old population need robust health care facilities.
Sustainable Social security measures: Increasing number of old aged population will demand for better social security.
Implementation of labour codes and active labour market policies needs to be adopted.
Revision in National Youth Policy on a regular interval.
India's Schemes and Policies for Older Persons:
Schemes

Pradhan MantriVayaVandana Scheme - 2017 by the Ministry of Finance
Indira Gandhi National Old Age Pension Scheme (IGNOAPS) - 1995 by the Ministry of Rural Development
National Programme for the Health Care of Elderly (NPHCE) - 2010-11 by the Ministry of Health & Family Welfare
VarishtaMediclaim Policy - 2006 - by the National Insurance Company
RashtriyaVayoshriYojana - 2017 - by the Ministry of Social Justice and Empowerment
Varishta Pension BimaYojana - 2003 and 2014 - by the Ministry of Finance
Senior Citizens' Welfare Fund - 2015 - by the Ministry of Social Justice and Empowerment
VayoshreshthaSamman- 2005 - by the Ministry of Social Justice & Empowerment
Reverse Mortgage Scheme - 2007 - by the Ministry of Finance
Pradhan Mantri Jan ArogyaYojana - 2018 - by the Ministry of Health and Family Welfare
Verifying, please be patient.
Our Centers
DELHI (Karol Bagh)
GS SCORE, 1B, Second Floor, Pusa Road, Karol Bagh, New Delhi - 110005 (Beside Karol Bagh Metro Station Gate No. 8)
BHUBANESWAR (Jaydev Vihar)
GS SCORE, Plot No.2298, Jaydev Vihar Square, Near HCG Day Care, BBSR - 751013
LUCKNOW (Aliganj)
GS SCORE, 2nd Floor, B-33, Sangam Chauraha, Sector H, Aliganj, Lucknow, UP - 226024