India's Space Economy
Context
According to the report titled 'Developing the Space Ecosystem in India: Focusing on Inclusive Growth', India's space economy was pegged at $9.6 billion in 2020 and is expected to touch $12.8 billion by 2025.
About
What does Space Economy mean?
Space Economy can be understood as the full range of activities and the use of resources that create value and benefits to human beings in the course of exploring, researching, understanding, managing, and utilising space.
New Space Economy 2022represents an innovative approach to the Space Sector under multiple aspects, such as the number and typology of the main players and investors, the space application, its economic impact, old objectives linked to science and the Space Race, together with new objectives such as
What is likely to spur the market forward?
increased demand for small satellites
increase in demand for military and defense satellite communication solutions
Setting-up spaceparks across the country will be key to attracting global startups working in the space sector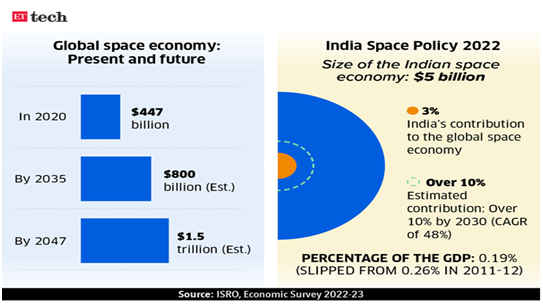 How India is going to achieve the estimated targets?
By increasing its Indigenous manufacturing of Satellites and Space objects.
By Inclusion of Private players in the field of Space.
By attracting global start-ups working in the space sector and help to incubate space tech companies in India.
Do you know?
India has of over 100 space tech start-ups with investments in the segment touching $68 million in 2021.
Recent Government Initiatives:
Privatisation: The government opened up the space sector to private sector players.
IN-SPACe&ISpA: In 2020, the government announced the formation of the Indian National Space Promotion and Authorisation Centre (IN-SPACe) and the Indian Space Association (ISpA).
Updated Policies: The government recently updated the SpaceCom and SpaceRS policies, liberalizing the traditional satellite communication and remote sensing sectors.
New Drone Rules: The government also released new rules for drones as well as guidelines for acquiring and producing geospatial data.

Registration for space objects:The national registration mechanism for space objects has been implemented, with five satellites registered. A total of six memorandums of understanding have been signed with private or academic entities for sharing technical expertise and facilities.
What further measures are required?
A comprehensive policy for the space sector
Introduction of production linked incentive (PLI) scheme
Promotion of independent launch solutions for private sector satellites
Verifying, please be patient.
Our Centers
DELHI (Karol Bagh)
GS SCORE, 1B, Second Floor, Pusa Road, Karol Bagh, New Delhi - 110005 (Beside Karol Bagh Metro Station Gate No. 8)
BHUBANESWAR (Jaydev Vihar)
GS SCORE, Plot No.2298, Jaydev Vihar Square, Near HCG Day Care, BBSR - 751013
LUCKNOW (Aliganj)
GS SCORE, 2nd Floor, B-33, Sangam Chauraha, Sector H, Aliganj, Lucknow, UP - 226024