Longest ever vessel to sail on Brahmaputra completes pilot run
Context
The Ministry of Ports, Shipping & Waterways achieved a landmark when the MV Ram Prasad Bismil became the longest vessel ever to sail on the river Brahmaputra.
About
About the vessel:
It is a 90 meters long flotilla that is 26 meters wide.
The consignment was loaded with 1,793 metric tonnes of steel rods from Tata Steel in Jamshedpur, had a requirement of a draft of 2.0 meters.
It is the longest vessel ever to sail on River Brahmaputra anchored at Pandu Port after completing the cargo movement from Haldia in West Bengal via Bangladesh.
The vessel along with two barges, DB Kalpana Chawla and DB APJ Abdul Kalam was flagged off from the Syama Prasad Mookerjee Port in Haldia.
Significance of the pilot run:
It lays down the path for commencement of barging operation from Kolkata to Guwahati via Indo Bangladesh Protocol Route (IBRP).
The engineering marvel of this historic consignment remains at maintaining the minimum navigational draft of at least 2.0 meters, especially at critical stretches like the Sirajganj – Daikowa stretch of IBPR.
The Government of India along with the Government of Bangladesh funded the dredging of this stretch with 80:20 ratio respectively for seamless navigation.
The Inland Waterways Authority of India (IWAI) as well as Bangladesh Inland Water Transport Authority (BIWTA) worked together so that this historic cargo movement can move smoothly.
About Indo Bangladesh Protocol Route (IBRP):
Indo-Bangladesh Protocol on Inland Water Transit & Trade exists between India and Bangladesh under which inland vessels of one country can transit through the specified routes of the other country.
The existing protocol routes are:

Kolkata-Pandu-Kolkata
Kolkata-Karimganj – Kolkata
Rajshahi-Dhulian-Rajshahi
Pandu-Karimganj-Pandu

For inter-country trade, certain ports of call have been designated in each country. These Ports of call generally act as an intermediate stopsfor a ship on its scheduled journey for unloading and loading of cargo or taking on supplies or fuel and maintenance and refurbishing is carried out.
This Protocol, which was first signed in the year 1972, was renewed in the year 2015for a period of five years with a provision for its automatic renewal for a further duration of five years providing long term assurance to various stakeholders.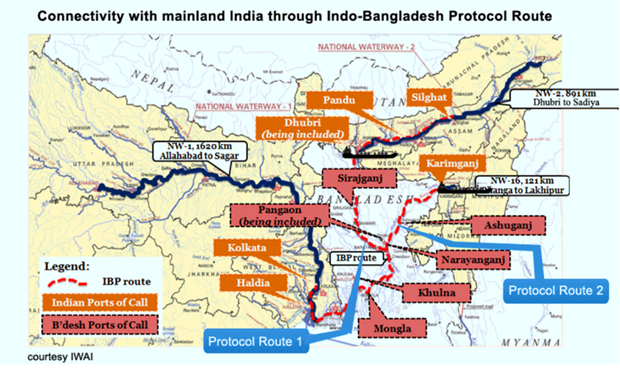 Verifying, please be patient.