SC delivers split verdict on Karnataka hijab ban
Context
Recently, the Supreme Court has delivered a split verdict on whether Muslim Girls/ students should shed their hijabs at the Educational Institutions, again igniting the debate around the Right to profess and follow their religion.
About
The Verdict
Essential religious practices mean all those practices that are fundamental to a religion and not following them would result in the change of religion itself.
Supreme Court's (SC) Previous Judgements on Hijab Case:
As per the SC, wearing of hijab does not form a part of essential religious practices in Islamic faith and it is not protected under the right to freedom of religion guaranteed under Article 25 of the Constitution of India.
About Religious Freedom Protected under the Constitution:
Article 25(1)

of the Constitution guarantees the "freedom of conscience and the right freely to profess, practise and propagate religion".
It is a right that guarantees a negative liberty — which means that the state shall ensure that there is no interference or obstacle to exercise this freedom.
However, like all fundamental rights,the state can restrict the right for grounds of public order, decency, morality, health and other state interests.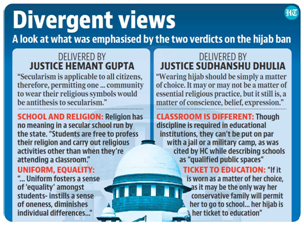 Key points of Consideration:
Fundamental Rights of Girls/Students on wearing whatever they want but conditional restrictions over educational Institutions.

Conservative mind-set of parents/families for girl child to get education. It is a Human right and cannot be seen as constraint under a practice of any religion.

Judgements to be given for larger good and not only considering a group of people's opinion.
Argument in Support of the Hijab Ban

Argument against Hijab Ban

Constitutional Right

- Wearing of hijab is their fundamental right. Also wearing a hijab is an expression protected under Article 19.

Government has the right to restrict fundamental rights

to protect the sovereignty and integrity of India, friendly relations with foreign states, public order, decency or morality, or in relation to contempt of courts.

Diversity:

India is a land of diversity, and the diversity in the classroom must reflect this social reality, as this helps students to know about different diverse groups and they learn to respect diversity.