Why Northwest India is seeing excess rainfall in March?
Context
The India Meteorological Department (IMD) issued a forecast for a fresh spell of rainfall along with thunderstorms and hailstorms over northwest, east and northeast India from March 30 to April 1, 2023.
Background
IMD categorises Northwest India having 10 States and Union Territories.
Out of the ten states six have recorded a large excess in rainfall so far this month, including Delhi, Uttar Pradesh, Punjab, Haryana, Rajasthan and Chandigarh.
The rain spells over northwest India began nearly two weeks ago and are continuing.
India Meteorological Department (IMD):
It is an agency established in 1875 under the Ministry of Earth Sciences.
It is the principal institution responsible for meteorological observations, weather forecasting and seismology.
The changing scenario:
Rainfall this month has also brought with it a drop in temperatures.
In Delhi, for instance, the maximum temperature dropped to a low of 3 degrees Celsius on March 19.
Last year, when Delhi recorded no rainfall at all in March, the national capital saw higher maximum temperatures of 38 and 39 degrees Celsius after March 20.
Factors responsible for such high rainfall:
Western disturbances:

Multiple western disturbances have been affecting Northwest India this month in contrast to February when no western disturbances affected the plains of the region.
The current spell of rainfall has also been brought by a western disturbance that lies as a cyclonic circulation over Afghanistan and the neighbourhood.
According to IMD scientists, four western disturbances have affected the plains of northwest India so far this month.
Western disturbances are storms from the Mediterranean region that bring rainfall to northwest India.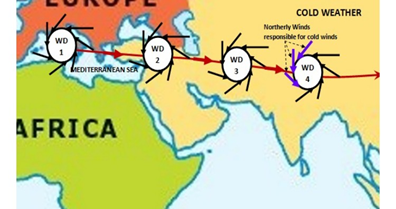 Phenomenon behind Western Disturbance (WD):
Western disturbances are storms that originate in the Caspian or Mediterranean Sea, and bring non-monsoonal rainfall to northwest India.
They are labelled as an extra-tropical storm originating in the Mediterranean, is an area of low pressure that brings sudden showers, snow and fog in northwest India.
The disturbance travels from the "western" to the eastern direction.
These travel eastwards on high-altitude westerly jet streams - massive ribbons of fast winds traversing the earth from west to east.
Disturbance means an area of "disturbed" or reduced air pressure.
Equilibrium exists in nature due to which the air in a region tries to normalise its pressure.
A WD is associated with rainfall, snowfall and fog in northern India. It arrives with rain and snow in Pakistan and northern India.
The moisture which WDs carry with them comes from the Mediterranean Sea and/or from the Atlantic Ocean.
WD brings winter and pre-monsoon rain and is important for the development of the Rabi crop in the Northern subcontinent.
The WDs are not always the harbingers of good weather.
Sometimes WDs can cause extreme weather events like floods, flash floods, landslides, dust storms, hail storms and cold waves killing people, destroying infrastructure and impacting livelihoods.