Floating Border Outposts on Indo-Bangladesh Border
Context
Union Home and Cooperation Minister inaugurated three floating Border Outposts (BOP) on the Indo-Bangladesh border to protect the inaccessible areas of the Sundarbans.
About
The floating Border Outposts (BOP) Sutlej, Kaveri and Narmada have been built by the Koch Shipyard.
The floating BOPs are equipped with modern facilities and safety equipment.
The front section of the BOP is bullet proof for the safety of the jawans.
A BOP is accompanied by 6 small boats and it has adequate arrangements to prevent both infiltration and smuggling.
Laid the foundation stone of 'Maitri Sangrahalaya' or 'Friendship Museum'.
A boat ambulance at a floating border outpost (BOP) at Haridaspur in the state.
The BOPs with three digi-sets can remain afloat without refilling fuel for a month and will guard the 80-km riverine border between India and Bangladesh.
Three more BOPs will be added to the fleet in the days to come.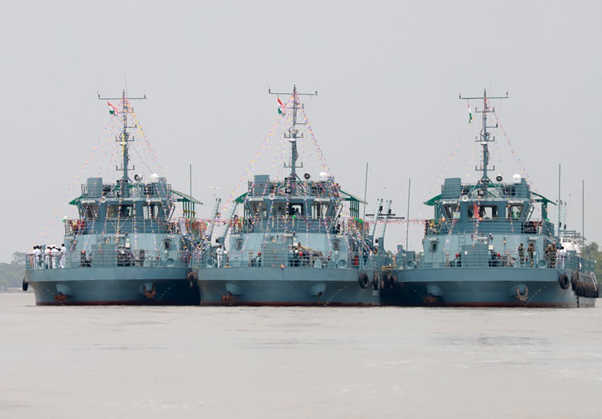 Additional Information:
The government of Bangladesh will organise several programmes across the country to celebrate the 181st birth anniversary of Gurudev Rabindranath Tagore on 8 May.
The main event will be held at the Rabindra Kuthibari in Shilaidaha of Kumarkhali upazila of Kushtia district.
The theme of this year's celebration of Gurudev Rabindranath Tagore birth anniversary has been kept as 'Crisis of Humanity and Rabindranath'.
The Ministry of Culture and Bangla Academy will print memorabilia and posters on the occasion of the poet's birth anniversary.
Life of Rabindranath Tagore
Tagore took birth in the city of Calcutta on 6th May, 1861
His school life enriched his thoughts about the importance of school. According to him school was a place which hinders the native growth of the child and brought unwarranted and oblivion harm to the development of personality. All this made him to construct his own philosophy of life and education.
At the age of 40, he himself initiated to set up his Shantiniketan Ashram (School) with around ten boys only to materialize his own ideas and ideals.

This institution turned into a world famous Vishva Bharati - a seat of international university and a melting point of Eastern and Western culture-a junction of humanity.

Rabindranath Tagore a.k.a Gurudev passed away on August 7, 1941 leaving his permanent impression in the hearts of mankind.