India and the Ivory Tussle between CITES and African Countries
Context
The four African Countries namely Namibia, Botswana, South Africa, and Zimbabwe, has approached CITES for removal for elephant from Appendix II conservation status for regulation of controlled ivory trade from the region to generate revenue.
Background:
At CoP17 and CoP18, India voted against proposals to re-open trade in ivory from the southern African states.
In Johannesburg, South Africa, five years ago, India expressed its willingness to share their experiences of protecting elephants and supporting rural development without recourse to trade in ivory.
What is an Ivory mean?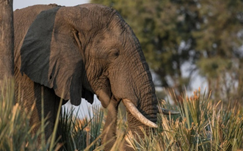 It is the hard white substance that the tusks of an elephant are made of. Across the world, ivory is viewed as a status symbol.
Historically, it was used to produce ornaments, figurines, and small carvings, as well as items like jewellery, piano keys, and chess sets.
Traditional medicine also views ivory as a healing element, using ivory powder to create medicine for a variety of illnesses.
About the issue in CoP 19 event:
In the on-going CoP 19 event Zimbabwe has proposed for allowing a regular form of controlled trade in ivory by delisting the elephant populations of the four countries from Appendix II which got rejected in the event.
CoP is the supreme decision-making body of CITES which applies a set of biological and trade criteria to evaluate proposals from parties to decide if a species should be in Appendix I or II.
CITES Appendix I list species threatened with extinction — import or export permits for these are issued rarely and only if the purpose is not primarily commercial.
CITES Appendix II includes species not necessarily threatened with extinction but in which trade must be strictly regulated.
The Tussle over Ivory:
The international ivory trade was globally banned in 1989 when all African elephant populations were put in CITES Appendix I.
However, the populations of Namibia, Botswana, and Zimbabwe were transferred to Appendix II in 1997 and South Africa's in 2000 to allow two "one-off sales" in 1999 and 2008 of ivory stockpiled from natural elephant deaths and seizures from poachers.
The four southern African countries argue that their elephant populations have bounced back and that their stockpiled ivory, if sold internationally, can generate much-needed revenue for elephant conservation and incentivising communities.
Opponents of the ivory trade counter that any form of supply stokes demand and that sharp spikes in elephant poaching were recorded across the globe after the one-off sales allowed by the CITES in 1999 and 2008.
India and ivory trade:
The endangered Asian elephant was included in CITES Appendix I in 1975, which banned the export of ivory from the Asian range countries.
In 1986, India amended The Wild Life (Protection) Act, 1972 to ban even domestic sales of ivory.
After the ivory trade was globally banned, India again amended the law to ban the import of African ivory in 1991.
In 1981 when New Delhi hosted CoP3, India designed the iconic CITES logo in the form of an elephant.
Over the years, India's stand has been unequivocal on the ivory issue.