Location in News
Location in News
Srivilliiputhur Megamalai Tiger Reserve

About:
Srivilliputhur Megamalai Tiger Reserve is the fifth tiger reserve in Tamil Nadu.
It lies in the Western Ghats
Srivilliputhur-Megamalai Tiger Reserve is Tamil Nadu's fifth tiger reserve and India's 51st.
Srivilliputhur was well-known as the Grizzled Giant Squirrel Wildlife Sanctuary.
Bengal tigers, elephants, gaurs, Indian giant squirrels, leopards, Nilgiri tahrs, and other animals can be observed here.
It's a blend of tropical evergreen and semi-evergreen forests, dry deciduous and moist mixed deciduous woods, and grassland in this area.
SMTR is also adjacent to the Kalakad-Mundanthurai reserve. The Srivilliputhur end is about 45 km from Virudhunagar town.
Location in News
Tel Tsaf site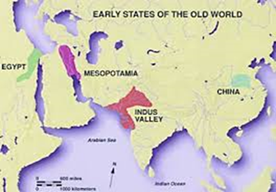 According to a paper published in Israel in 2022, records from the Tel Tsaf site shows cotton fibers originated in the Indian subcontinent around 5200 BCE.
Tel Tsaf site:
Tel Tsaf, a Middle Chalcolithic site, is located in the central Jordan Valley.
Cotton fibres found at Tel Tsaf are younger than the cotton strings found at Mehrgarh copper beads.
Excavations unearthed have four architectural complexes where each consists of a closed courtyard with round or rectangular rooms and numerous rounded silos.
Burials were found within or adjacent to silos.
Common findings include- flints, pottery, animal bones, 150 clay sealings (bullae) and imported items like artifacts of basalt and obsidian, beads, sea shells, Nilotic shell and pottery items of Ubaid culture of north Syria
Location in news
'Gomti River' declared as a non-perennial river



Irrigation department of the Uttar Pradesh has declared the River Gomti as a "non-perennial river".
What are Non-perennial river?
The non-perennial rivers are those rivers that have no water flow for the whole year.
For e.g. - Godavari, Krishna, etc. These rivers are non- perennial mainly because they do not originate from the glacial areas like Ganga, Yamuna, Indus, etc.
The Godavari is the second-longest river after the Ganga in India.
About the River:
River Gomti starts from Gomat Taal which is famous because of Fulhaar jheel that is close to Madho Tanda situated in Pilibhit, India.
This river covers about 900 kilometers which is about 560 miles and it flows through Uttar Pradesh and joins the Ganges close to Saidpur, Kaithi in Ghazipur.
This river starts at its origin and after crossing 20 kilometers, it joins the small river and the name is Gaihaaee.
This river is very lean until it arrives at Mohammadi Kheri which is about 100 kilometers from its starting point.
It is a tehsil of Lakhimpur Kheri district and at this district; the river meets some other tributaries.
Tributaries: The tributaries and sub-tributaries of Gomti are-

Sukheta
Choha
Andhar Choha