Nilgiri Tahr'
The population of Nilgiri Tahr in the Mukurthi National Park has risen from 568 in 2018 to 612 this year.
About
This is the second consecutive year that an increase in the population of the animal had been recorded in the park.
The almost 8% increase in the population of the iconic animal in 2019 follows a similarly significant increase in its population in 2018.
Nilgiri tahr
Nilgiri tahrs are stocky goats with short, coarse fur and a bristly mane.
Males are larger than the females, and have a darker colour when mature. Both sexes have curved horns, which are larger in the males, reaching up to 40 cm for males and 30 cm for females.
Adult males develop a light grey area or "saddle" on their backs and are hence called "saddlebacks"
IUCN status - Endangered
Conservation Issues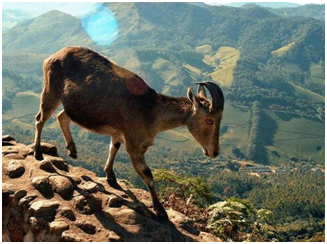 The Nilgiri tahr symbolizes the conflicts inherent in conservation of threatened fauna and their habitat.
Their number totals around 2200-2500 individuals in the wild.
Nilgiri tahrs exist only in small, isolated populations due to extreme habitat fragmentation and illegal hunting. They are, as a result, vulnerable to local extinction.
The reasons for the decline of tahr populations have not been fully understood.
The species has always been under severe stress on account of the construction of numerous hydroelectric projects, timber felling and monoculture plantation of eucalyptus and wattles.
All these development activities, especially the plantation activities affect the heart of the tahr habitat, which are the grasslands – sholas.
MUKURTHI NATIONAL PARK
It is located on the high altitudes of the Nilgiris, comprising rolling downs interspersed with temperate sholas in depressions.
The landscape is extremely pictruesque and a seat of endemism in its relationship with Himalayan flora and fauna. This forms part of the Nilgiris biosphere reserve.
Forest Type - Primarily grassland, characteristically interspersed with numerous isolated, compact, sharply defined montane wet temperate mixed forests locally termed 'Sholas', with beautiful brooks.

Verifying, please be patient.