Researchers develop reusable, paper-based lycopene sensors
Context
A team of researchers at the Institute of Nano Science and Technology (INST), Mohali, has developed a nano-biosensor for detecting 'lycopene'.
What is lycopene?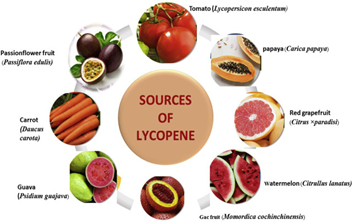 Lycopene is a type of organic pigment called a carotenoid.
It is synthesized by plants and microorganisms but cannot be synthesized by the human body and can only be obtained via diet.
It gives some vegetables and fruits (e.g., tomatoes) a red colour.
Lycopene is a powerful antioxidant that might help protect cells from damage. It's found in tomato, watermelon, red-orange, pink grapefruit, apricot, papaya, and guava.
It is a potent antioxidant that helps prevent cancer and heart disease.
It may interfere with chemotherapy and radiation therapy. Cancer patients are therefore suggested to use lycopene supplements with caution.
About
About the Discovery:
The develop Nano-biosensor uses a portable smartphone-based upconverting reusable fluorescent paper strip.
The reusable, paper-based strip may help make the lycopene detection process easy, cheap, and less time-consuming.
The biosensor (transparent strip) offers minimal scattering with maximum sensitivity in comparison to previous paper strips.
The study has been published by the American Chemical Society.
Upconversion Nanoparticles (UCNP):
Upconversion nanoparticles (UCNPs) are a unique class of optical nanomaterials that exhibit photon upconversion.

Upconversion is a process where light can be emitted with photon energies higher than the light generating the excitation.

An example is the conversion of infrared light to visible light.

In photon upconversion, two or more incident photons of relatively low energy are absorbed and converted into one emitted photon with higher energy.

The developed transparent Upconversion nanoparticle (UCNP) strip is sensitive to lycopene with a detection limit as low as 10 NM.

A simple smartphone camera can be used for detection.
Effect of degradation of Lycopene on Tomato:
Other methods of determining lycopene in food or biological samples:
UV-Visible spectrophotometry
Liquid chromatography
Reverse-phase liquid chromatography
Supercritical fluid chromatography
Matrix-assisted desorption ionization
The undesirable Biodegradation of lycopene not only affects the attractive color of the final products but also their nutritive value.
The main cause of lycopene degradation in tomato dehydration is isomerization and oxidation.
As a result, the quality of the produce is rated based on the lycopene present in it and is priced accordingly.