Geography (GS-I)
Galactic tides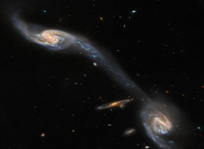 Like the earth's oceans at their shores, the universe's galaxies also experience tides, but on a much larger scale called as Galactic tides.
About:
A galactic tide is the result of a tidal force imposed by a galaxy.
If two galaxies pass sufficiently close (a galaxy collision or just a close encounter) their gravity can affect orbits of stars in the other (galaxy interaction).
For example, disruptions such as a tidal arm or tidal tail can result, or a disk galaxy can lose its symmetry (an asymmetrical galaxy).
An interacting galaxy is a galaxy displaying evidence of such interaction.
A galaxy merger would be the most extreme interaction.
Economy (GS-III)
Vanadium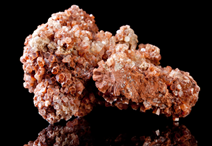 After the discovery of lithium in Kashmir, 'vanadium', a rare metal has been discovered in Gujarat.
About:
The metal has been found in the sediment samples collected from Gulf of Khambhat, which opens into the Arabian Sea off Alang in Gujarat.
The new found metal is significant as it is scarce in India and possesses the capability to enhance the resilience of steel and titanium.
The metal also has application in vanadium redox batteries to store energy efficiently.
Vanadium and Uses:
Vanadium is used primarily as an alloying element in Iron & Steel Industry and to some extent as a stabiliser in titanium and aluminium alloys which are used in aerospace applications.
It imparts toughness and strength to steel, alloys and also acts as scavenger for oxygen.
Vanadium also offers exceptional resistance to corrosion and elevated temperatures.
International Relations (GS-II)
L.69 group of nations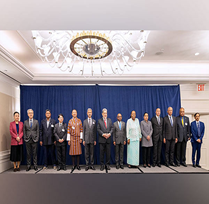 The Foreign Ministers of the L.69 group of nations held a meeting on the sidelines of the 78th Session of the United Nations General Assembly to exchange views on reform of the United Nations Security Council.
About the meet:
The leaders called the expansion of the UNSC "essential" to make the body "more representative, legitimate, and effective."
They reiterated their expectation that the ongoing Intergovernmental Negotiations (IGN) process on UNSC reform will commence negotiations based on a single consolidated text, with the aim of delivering concrete outcomes within a fixed time frame.
They reaffirmed their strong support for the Common African Position (CAP).
Who are L.69 group of countries?
The L.69 group consists of developing nations from Asia, Africa, Latin America, the Caribbean, and the Pacific (Small Island Developing States).
The group was initially created to promote economic cooperation and to collectively address development challenges.
The "L.69 group of countries" refers to a coalition to advocate for their collective interests and concerns within international organizations and negotiations, particularly within the United Nations system.
The group is formally known as the "Group of 77 and China," often abbreviated as G-77/China.
Significance:
The group plays a significant role in international negotiations on a wide range of issues, including trade, climate change, sustainable development, and more.
It often represents the interests of developing countries in negotiations with developed nations and international organizations.
Polity and Governance (GS-II)
Tripura introduced e-cabinet system


Tripura Chief Minister has launched an e-cabinet system at Agartala to promote digital infrastructure development and digitisation of government services and information.
About:
Tripura has thus become the fourth state—and second in the Northeast—after Uttarakhand, Uttar Pradesh and Arunachal Pradesh, to have introduced an e-cabinet system.
As pet the plan, all future cabinet meetings in the state will be paperless, reducing the carbon footprint and environmental degradation in the process, with ministers and bureaucrats using tablets.
All ministers attended the event at the new Secretariat complex, where the chief minister launched the app to be used for the e-cabinet.
The government also rolled out honorary commendations to departments that have gone paperless as part of 100 per cent e-office adoption.
Polity and Governance (GS-II)
What is Unparliamentary Language?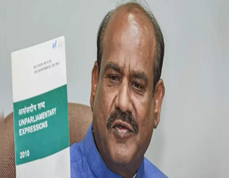 Recently, the controversy over a BJP MP for using words to denote a community and remarks against another MP have condemned the use of such "unparliamentary language" by the Speaker in Lok Sabha.
About:
Unparliamentary words are those which do not fit with the dignity of the house and are, therefore, expunged from the record of speeches by the chair.
Who decides what is 'unparliamentary'?
The secretariats of parliament release a list of such words that are considered 'unparliamentary'.
These are usually words that have been used by parliamentarians in the past and were expunged from the records of Lok Sabha and Rajya Sabha back then.
Powers:
According to Rule 380 of Lok Sabha Rules, the Speaker has the power to expunge words which are defamatory, indecent, unparliamentary or undignified from the record of the debate.
The Speaker has the discretion to decide what is unparliamentary but chair cannot exercise this power in such a way as to erode the freedom of speech conferred upon members by Article 105 of the constitution.
Polity and Governance (GS-II)
Promotion of Tribal Products for North East Region' (PTP-NER 2.0) scheme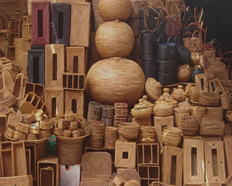 Tribal Cooperative Marketing Development Federation of India Ltd. (TRIFED) is going to launch the phase 2 of the 'Promotion of Tribal Products for North East Region' (PTP-NER 2.0) scheme.
About:
It is a Central Sector scheme which was launched by the Ministry of Tribal Affairs.
Vision: To strengthen livelihood opportunities for tribal artisans through increased efficiency in procurement, logistics and marketing of tribal products.
It will be implemented in the States of Arunachal Pradesh, Assam, Manipur, Meghalaya, Mizoram, Nagaland, Tripura and Sikkim.
It is being implemented in two phases:

In the First Phase of the scheme, 8 states and 38 districts were covered.
Organisation of 64 Tribal Artisans Empanelment Melas (TAeM) were done by the teams of TRIFED and North Eastern Handicrafts and Handlooms Development Corporation (NEHHDC).
In the Second Phase of the scheme, 29 districts will be covered by the teams of TRIFED and NEHHDC to reach out to tribal artisans and showcase their cultural heritage.

Implementing Partners: North Eastern Handicrafts and Handlooms Development Corporation (NEHHDC), India Post under the Department of Posts, and other North Eastern State Government Departments/ Agencies.
Polity and Governance (GS-II)
Agro Processing Clusters scheme



The Union Government's cluster development programme (CDP) is launched as an initiative to reform agriculture markets.
About:
Under CDP, the government has allowed five firms to undertake cluster farming of specific horticulture crops in a bid to boost farmers' income and make Indian produce globally competitive.
The cluster-based approach in horticulture crops will facilitate production, post-harvest management, marketing and branding of crops. It will reduce post-harvest losses and ensure better price realisation for the farmers.
CDP intends to aggregate small and marginal farmers, which will scale up the level of agriculture activities in the region with many forward and backward linkages and spill-over effects for the local economy.
The National Horticulture Board (NHB) is the nodal agency for implementation of CDP.
Management: A cluster development agency is appointed for each identified cluster, and implementing agencies (IA) for different verticals of the clusters: Pre-production and production; post-harvest management; value addition and logistics; marketing and branding.
Products included: Five companies, which will be the implementing agencies, have been selected through the bidding process.
They will develop the cluster for banana, apple, grapes, turmeric and mango crops in a period of four years.
Environment (GS-III)
Gujarat bans invasive tree species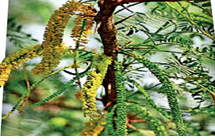 The Gujarat government has banned the plantation of 'Conocarpus', an invasive species in forest or non-forest area, underlining its "adverse impacts on environment and human health.
About:
Conocarpus is an evergreen species with dark-green shiny leaves.
It is a fast-growing species which is reported to be not palatable to wild herbivores or domesticated animals.
Roots of this species go deep inside the soil and develop extensively, damaging telecommunication lines, drainage lines and freshwater systems.
The forest department has also been directed to raise public awareness about its advers impacts.
Environment (GS-III)
Kaimur Wildlife sanctuary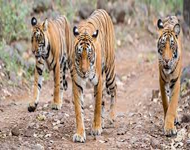 Bihar state Officials have been working towards obtaining the National Tiger Reserve Conservation Authority's approval for declaring Kaimur Wildlife Sanctuary as the state's 2nd tiger reserve.
About Kaimur Wildlife sanctuary:
Kaimur Wildlife Sanctuary is located in the Kaimur district of Bihar, India.
It is situated in the southwestern part of Bihar, close to the borders with Uttar Pradesh and Jharkhand.
The sanctuary covers an extensive area in the Kaimur Hills, which are part of the Vindhya Range.
It is the Bihar's largest Wildlife Sanctuary and is a tiger corridor.
The main animals found at Kaimur Wildlife Sanctuary are Bengal tigers, Indian leopards, Indian boars, sloth bears, sambar deers, chitals, four-horned antelope and nilgais.
Environment (GS-III)
World Environment Health Day




World Environmental Health Day is celebrated annually on September 26th to raise awareness of the importance of environmental health and to promote actions to protect human health and the environment.
About the day:
The day is organised by the International Federation of Environmental Health (IFEH) which is a global organisation that represents environmental health professionals in over 100 countries.
Environmental health is the branch of public health that focuses on the relationships between the environment and human health.
It encompasses a wide range of issues, including air and water quality, food safety, waste management, and climate change.
Economy (GS-III)
Capacity-building initiative for industry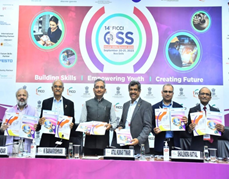 The Pharmaceuticals Export Promotion Council (Pharmexcil) launched a capacity-building programme for the industry with support from the Ministry of Commerce and Industry.
About:
As the Indian pharma units, especially in the MSME sector, are facing new challenges such as poor resources to meet global as well as domestic expectations in healthcare, the Centre is contemplating to implement the Draft Schedule M (Good Manufacturing Practice) published in 2018 soon.
As part of the initiative, a capacity-building programme on quality compliance and patient safety (Industry Practices and Regulatory Expectations).
It was launched in Ahmedabad to create awareness on best international practices for pharmaceutical manufacturing to enable them to maintain quality.
The Indian Drug Manufacturers Association (IDMA) is also supporting the initiative and has called on its members to actively take part in the programme.
The capacity-building programmes are also being planned to be conducted in Chandigarh, Hyderabad, Indore, Visakhapatnam, Mumbai, Chennai, Bangalore, Sikkim, and Goa.
Economy (GS-III)
General Crop Estimation Survey (GCES)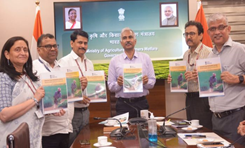 In-line with the Prime Minister's vision towards maximizing digital technology for social benefit, Department of Agriculture and Farmers Welfare (DA&FW) launched the mobile application and the web portal for GCES (General Crop Estimation Survey).
About the portal:
The portal and the app provide a comprehensive repository of yield estimation including village wise GCES plan and plot details where the crop cutting experiments conducted, post are harvesting crop weight and driage weight of the crop.
About General Crop Estimation Survey (GCES):
GCES is a survey conducted to estimate crop yields and other agricultural statistics. The new portal and mobile app aim to streamline this process for enhanced accuracy and efficiency.
The initiative emphasizes the use of technology to improve the effectiveness and outcomes of government programs, particularly in the agriculture sector.
Science and Technology (GS-III)
Geospatial intelligence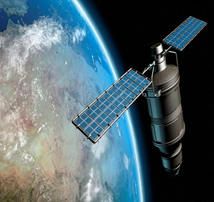 In summer 2023, the US faced extreme weather events, but geospatial intelligence provided vital information to protect people and communities.
What is Geospatial intelligence?
Geospatial intelligence is the collection and integration of data from a network of technologies, including satellites, mobile sensors, ground-control stations and aerial images.
Geospatial intelligence is the collection and integration of data from a network of technologies, including satellites, mobile sensors, ground-control stations and aerial images.
The data is used to produce real-time maps and simulations to help identify when, where and to what extent a threat is likely to emerge.
Government officials, individuals or both can use this information to make informed decisions.
Science and Technology (GS-III)
CE20 E13 Engine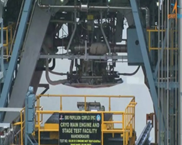 ISRO successfully completed the CE20 E13 engine hot test for the Gaganyaan qualification and 22-tonne thrust qualification.
About:
CE-20 engine is a cryogenic rocket engine.
It is a vital component, serving as the powerhouse of the Cryogenic Upper Stage (CUS) responsible for propelling the upper stage (C25) of the LVM3 vehicle.
It has demonstrated its capability by successfully operating at a thrust level of 19 tonnes in six successive LVM3 missions, including the Chandrayaan-2, Chandrayaan-3, and two commercial OneWeb missions.
The successful completion of E13 HT-03 signifies the culmination of rigorous testing and the readiness of the CE20 engine for the Gaganyaan program.
Developed by: Liquid Propulsion Systems Centre (LPSC) in Valiamala, Kerala.
LVM3 rocket
The LVM3 rocket is a three-stage heavy-lift launch vehicle developed by ISRO.
The vehicle has two solid strap-on boosters (burns solid fuel), a core-stage liquid booster (burns a combination of liquid fuels) and a cryogenic upper stage (burns liquid hydrogen with liquid oxygen).
LVM3 is designed to carry a 4-ton class of satellites into Geosynchronous Transfer Orbit (GTO) or about 10 tons to Low Earth Orbit (LEO), which is about twice the capability of its predecessor, the GSLV Mk II or GSLV rocket.
The LVM3 is powered by three stages - solid, liquid and cryogenic.
PERSONALITY IN NEWS
Pandit Deendayal Upadhyaya (1916-1968)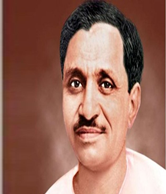 Recently, the birth Anniversary of Pandit Deendayal Upadhyaya was observed on 25th September.
About:
He was born in Mathura, UP in 1916.
He was an Indian politician.
He was one of the most important leaders of the Bharatiya Jana Sangh, the forerunner of the present day Bharatiya Janata Party.
He qualified the civil services examination, where he got his nickname as Panditji for appearing in the examination hall wearing traditional dhoti-kurta and cap.
He however did not join the service, but became in 1942, a life-time volunteer of the Rashtriya Swayamsevak Sangh (RSS).
However, Upadhyaya is seen to have played a larger role in India's thought process and political life, transcending party lines.
Major Schemes in his name:
Deendayal Antyodaya Yojana (DAY) - integrating the NULM and NRLM for alleviating poverty.
Deendayal Upadhyaya Grameen Kaushalya Yojana (DDU-GKY) Antyodaya Diwas - to diversify the incomes of rural poor families and to cater to the career aspirations of rural youth.
Deendayal Upadhyaya Gram Jyoti Yojana - to provide electricity to rural homes.
Pandit Deendayal Upadhyaya Shramev Jayate Karyakram - to create a conducive environment for industrial development primarily through skill training.
Deendayal Upadhyaya Swaniyojan Yojana (DUSY) - the rural version of the Start Up India scheme.
Species In News
Pterygotrigla intermedica



Context:
The scientists of the Zoological Survey of India (ZSI) have discovered a new species of a vibrant orange coloured deep water marine fish of species Pterygotrigla intermedica, from Digha Mohana in West Bengal.
About the Species:
The new species, commonly known as gurnards or sea-robins, belongs to the family Triglidae. There are a total 178 species of the Triglidae family worldwide.
It is the fourth species of Pterygotrigla genus reported in India so far.
They are found in warm and temperate seas of the world.
Sea robins are elongated fish with armoured bony heads and two dorsal fins.
Their pectoral fins are fan-shaped, with the bottom few rays each forming separate feelers.
Species In News
Vibrio vulnificus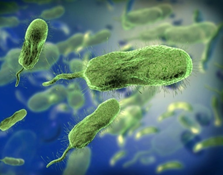 Vibrio vulnificus is a bacterium found near oceans which can become a threat to coastal communities.
About the species:
V vulnificus belongs to the same family as Vibrio cholerae, which causes cholera, a highly contagious diarrhoeal disease.
Vibrio vulnificus is a bacterium that causes septicemia, severe wound infections, and gastroenteritis.
Failure to recognize and treat this infection promptly leads to high morbidity and mortality.
Most Vibrio infections are caused by eating raw or undercooked oysters or other shellfish.
Threats:
In India, the sea surface temperatures average 28°C, making the waters conducive to growth and proliferation of V vulnificus.
Despite conducive marine conditions and a long coastline, reports of human infections of V vulnificus from India are sparse.
Researchers have also routinely found V vulnificus in seafood and marine environments in India.
The microbes can enter the digestive tract when people eat raw or undercooked seafood. "As Indians mostly consume properly cooked seafood, they are less at risk of contracting the infection through this route.
Species In News
World Rhino Day 2023



World Rhino Day is celebrated on September 22 every year.
The day is an annual alarm bell reminding us about the importance of spreading awareness about the need to protect and conserve all five species of rhinos.
About the species:
Rhinoceros are giant horn-bearing herbivores that include some of the largest living land mammals.
Rhinoceroses are characterized by the possession of one or two horns on the upper surface of the snout.
These horns are not true horns but are composed of keratin, a fibrous protein found in hair.
Rhinoceroses are noted for their thick skin, which forms plate like folds, especially at the shoulders and thighs.
All rhinos are gray or brown in colour, including the white rhinoceros, which tends to be paler than the others.
Rhinoceroses have poor eyesight but acute senses of hearing and smell.
Conservation Status:
IUCN Red List: Three species of rhino—black, Javan, and Sumatran—are critically endangered.
Location in News
South China Sea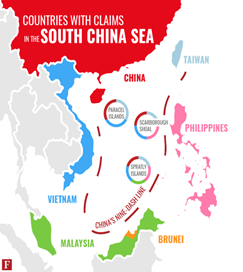 The Philippine coast guard had removed a floating barrier placed by China's coast guard to prevent Filipino fishing boats from entering a disputed area in the South China Sea.
About the region:
The South China Sea is situated just south of the Chinese mainland and is bordered by the countries of Brunei, China, Indonesia, Malaysia, Philippines, Taiwan and Vietnam.
The countries have bickered over territorial control in the sea for centuries, but in recent years tensions have soared to new heights.
The South China Sea is one of the most strategically critical maritime areas (more on this later) and China eyes its control to assert more power over the region.
What is the 'nine-dash line'?
The nine-dash line demarcates China's territorial claims in the South China Sea on Chinese maps.
The line runs as far as 2,000 km from the Chinese mainland to within a few hundred kilometres of the Philippines, Malaysia and Vietnam.
Location in News
Scarborough Shoal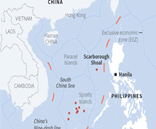 Scarborough Shoal is the disputed area between China and Philippines.
About:
Scarborough Shoal is located in the eastern part of the South China Sea.
It is uninhabited and shaped like an atoll consisting mainly of rocks and barely consists of any land except for very small islands.
It is located at about 220 kilometers from the Philippines and is located inside the Exclusive Economic zone of the Philippines.
Its location is much closer to the Philippines' shore as compared to the China's shore.
It is also referred to as 'Bajo de Masingloc' and 'Panatag' by the Philippines and 'Huangyan Island' by China.
The present name Scarborough was given after an East India company's ship named 'Scarborough' got grounded on one of the rocks in the atoll.