Varanasi nominated as SCO Tourism and Cultural Capital
Context:
Varanasi has been nominated as the first-ever SCO Tourism and Cultural Capital during the recent meeting of Shanghai Cooperation Organization (SCO) Council of Heads of State in Samarkand, Uzbekistan.
Varanasi – India's ancient city:
"Banaras is older than history, older than tradition, older even than legend and looks twice as old as all of them put together." – Mark Twain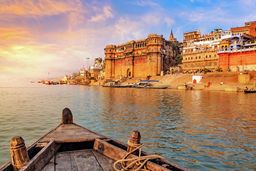 Varanasi, also popularly known as Banaras or Kashi is one of the oldest living citiesin the world.
It is known as the land of Lord Shiva, and is an important pilgrimage spot on the tourism map of the country.
Associated with spiritualism, mysticism, Sanskrit, and Yoga,Varanasi is also a center of learning.
Varanasi is also called the cultural capital of India.
Moreover, Gautam Buddha preached his first sermon after enlightenment, just 10 km away from Varanasi in the village of Sarnath.
Dasaswamedh Ghat, Ganga aarti, Dhamek Stupa, Banaras Hindu University, Kashi Vishwanath Temple, Durga Temple, Ramnagar Fort among several others, make an important part of Varanasi's culture.
The title
Every year, a city having cultural heritage from the member country that takes over the rotating Presidency of the organization will be bestowed with the title.
The title will help in promoting the cultural values of the city and add to values- economic, social, and more.
India will chair SCO from September 2022 to September 2023.