Significant rise in trafficking of Sea cucumbers
Context
A new analysis by the Wildlife Conservation Society-India (WCS-India) has shown that Sea cucumbers were the most frequently trafficked marine species in India between 2015 and 2021.
About
6 What are Sea Cucumbers?
Sea cucumbers are an important constituent of the marine ecosystem as they play an important role in maintaining the health of the ecosystem.
In India, sea cucumber is treated as an endangered species listed under schedule 1 of Wildlife Protection Act of 1972.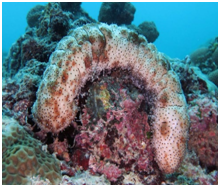 Smuggling
It is consumed as food and used in medicine.
Illegal harvesting and overexploitation of these animals leads to poorer sediment health, reduces nutrient recycling and impacts biodiversity.
Significance of the species
Enhancing life:By excreting inorganic nitrogen and phosphorus, they enhance the productivity of benthic animals - those living on the ocean floor.
Preserving corals:One of the by-products of the sea cucumber's digestion of sand is calcium carbonate, a key component of coral reef, thus, sea cucumbers play a vital role in their preservation.
Cleaning: They maintain the transparency of seawater by eating sewage. Feeding and excretion by them also increases alkalinity, which counteracts ocean acidification.
Verifying, please be patient.