Drug abuse is a patterned use of a drug in which the user consumes the substance in amounts or with methods which are harmful to themselves or others.
Drug abuse is corroding the foundations of society and leading to child abuse as well as sexual and domestic violence.
In India Drug-dependence is a major social issue in parts of India like Maharashtra, North East, Karnataka and Goa and Punjab. The fact that India is in close proximity to the Golden Crescent (Afghanistan, Iran and Pakistan) as well as the Golden Triangle (Myanmar, Laos and Thailand) makes it vulnerable to drug trafficking.
What started off as casual use among a minuscule population of high-income group youth in the metro has permeated to all sections of society? Cannabis, heroin, and Indian-produced pharmaceutical drugs are the most frequently abused drugs in India. Alcohol and tobacco are the most prevalent substance used across India. The pharmaceutical products containing narcotic drugs are also increasingly being abused. The codeine-based cough syrups continue to be diverted from the domestic market for abuse.
The seriousness of this issue across India could be gauged from following data.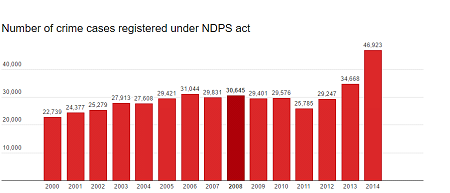 Reasons for Drug abuse
The incidence of drug abuse among children and adolescents is higher than the general population. This is notably because youth is a time for experimentation and identity forming. Changing cultural values, increasing economic stress are some other reasons leading to initiation into drugs use.
One of the major reasons for drug abuse is it's glorification in popular media such as television series and films. Quite often it so happens that doing drugs is romanticized and some fictional positive aspects of the same are shown.
The processes of industrialization, urbanization and migration have led to loosening of the traditional methods of social control rendering an individual vulnerable to the stresses and strains of modern life.
At a very basic level this happens because the person concerned feels a desperate need to deal with stress, to get a momentary high or to just 'fit in' with his or her peers, as happens in the case of youngsters. It soon reaches a stage where this need becomes much more than other needs in life and the person begins to believe their survival depends on those drugs.
Impact of Drugs abuse
Drug abuse leads to physical, psychological, moral and intellectual decay. This means wastage of economic potential of young generation.
Drug addiction causes immense human distress. Incidence of eve- teasing, group clashes, assault and impulsive murders increase with drug abuse.
Illegal production and distribution of drugs have spawned crime and violence worldwide.
Increase in incidences of HIV, hepatitis B and C and tuberculosis due to addiction adds the reservoir of infection in the community burdening the health care system further.
Women in India face greater problems from drug abuse. The consequences include domestic violence and infection with HIV, as well as the financial burden.
Solution to drug abuse
Society based Solutions: Prevention programmes involving entities such as families, schools and the immediate communities are important in this regard. Media – especially the entertainment segment – also needs to understand its role in this context, glorification of drug use should completely stop. Role of NGO's is also important to fight this menace.
Legal Measures: The Narcotic Drugs and Psychotropic Substances Act, 1985, were enacted with stringent provisions to curb this menace. The Act envisages a minimum term of 10 years imprisonment extendable to 20 years and fine of Rs. 1 lakh extendable up to Rs. 2 lakhs for the offenders. The Act has been further amended by making provisions for the forfeiture of properties derived from illicit drugs trafficking. However, effective implementation and time bound judicial process are the need of the hour.
International effort: India lies between two major drugs producing areas in the world i.e. Golden Crescent (Iran, Afghanistan and Pakistan) and Golden Triangle (Myanmar, Thailand, Laos and Myanmar). In order to stop supply of drugs from these areas International coordination is very important. We need to effectively use SAARC and ASEAN platform for joint coordinated action against drugs trafficking. Also, India also is signatory to the following treaties and conventions N. Convention on Narcotic Drugs ( 1961), U.N. Convention on Psychotropic Substances (1971), U.N. Convention Against Illicit Traffic in Narcotic Drugs and Psychotropic Substances (1988), Transnational Crime Convention (2000). June 26 is celebrated as International Day against Drug Abuse and Illicit Trafficking every year. It is an exercise undertaken by the world community to sensitize the people in general and the youth in particular, to the menace of drugs.