DTAA
It stands for Double Taxation Avoidance Agreement. A DTAA is a tax treaty signed between two or more countries. Its key objective is that tax-payers in these countries can avoid being taxed twice for the same income. A DTAA applies in cases where a tax-payer resides in one country and earns income in another. DTAAs can either be comprehensive to cover all sources of income or be limited to certain areas such as taxing of income from shipping, air transport, inheritance, etc.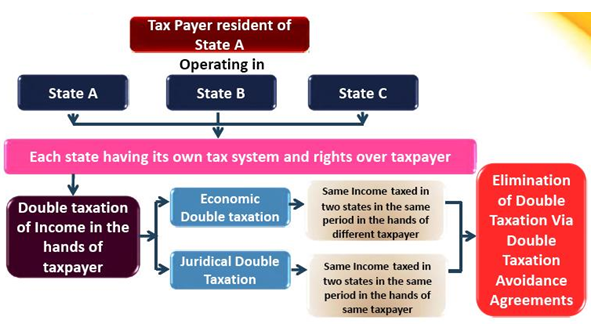 India has DTAAs with which nations?
India has DTAAs with more than eighty countries, of which comprehensive agreements include those with Australia, Canada, Germany, Mauritius, Singapore, UAE, UK and USA.
What are the benefits of DTAA?
DTAAs are intended to make a country an attractive investment destination by providing relief on dual taxation. Such relief is provided by exempting income earned abroad from tax in the resident country or providing credit to the extent taxes have already been paid abroad. For example, if a person is sent on deputation abroad and receive emoluments during stint away from home, income may sometimes be subject to tax in both the countries. The person can claim relief when filing tax return for that financial year, if there is an applicable DTAA. Similarly, if the person is an NRI having investments in India, DTAA provisions may also be applicable to income from these investments or from their sale. DTAAs also provide for concessional rates of tax in some cases. For instance, interest on NRI bank deposits attract 30 per cent TDS (tax deduction at source) here. But under the DTAAs that India has signed with several countries, tax is deducted at only 10 to 15 per cent. Many of India's DTAAs also have lower tax rates for royalty, fee for technical services, etc.
Example citing the working of DTAA:
An NRI individual living in X country maintains an NRO account with a bank based in India. The interest income on the balance amount in the NRO account is deemed as income that originates in India and hence is taxable in India. In case, India and X nation are contracted under the DTAA, this income will have tax implications in accordance with the rate specified in the agreement. Otherwise, the interest income will attract tax @ 30.90 % i.e. the current withholding tax. Also, NRI is entitled to avail the benefits under the provisions of DTAA between India and his country of residence with respect to interest income on government securities, company fixed deposits, dividend and loans.