National Crime Records Bureau
National Crime Records Bureau, an attached office of Ministry of Home Affairs, Government of India was established in 1986 with a mandate to empower Indian Police with information technology solutions and criminal intelligence to enable them to enforce the law effectively. The National Crime Records Bureau, abbreviated to NCRB, is an Indian government agency responsible for collecting and analysing crime data as defined by the Indian Penal Code (IPC). NCRB is headquartered in New Delhi and is part of the Ministry of Home Affairs (MHA), Government of India. The current Director of NCRB is Ish Kumar (IPS), who replaced Radha Krishna Kini (IPS) in October 2016.
The objectives are:
• To prepare an enabling IT environment - policy framework, guidelines, architecture, best practices for Police Forces throughout the country To improve knowledge based pro-active policing with the use of IT for improving internal efficiency, effectiveness and public service delivery • To lead and coordinate development of IT products and build a National Resource Centre of IT solutions for police organizations • To create and maintain secure sharable National Databases on crimes, criminals, property and organized criminal gangs for law enforcement agencies and promote their use for public service delivery • To obtain, compile, analyze and publish the National Crime Statistics • To obtain, process and disseminate finger print records of criminals including foreign criminals to establish their identity; promote automation of State Finger Print Bureau. and encourage research for the development of Finger Print Science • To provide training in IT and Finger Print Science for capacity building in Police Forces • To coordinate development of Modern State Crime Records Bureau. • To interact with Foreign Police Forces to share IT practices and crime information. NCRB also compiles and publishes National Crime Statistics i.e. Crime in India, Accidental Deaths & Suicides, Prison Statistics and Finger Prints. These publications serve as principal reference points by policy makers, police, criminologists, researchers and media both in India and abroad. NCRB has also floated various IT based Public Services like, Vahan Samanvyay (online Motor Vehicle Matching), Talash ( matching of missing persons and dead bodies). In addition, NCRB also maintains Counterfeit Currency Information and Management System (FICN) and Colour Portrait Building System (CBPS).
Major systems under National Crime Record Bureau
•
Crime Criminal Information System (CCIS):
– CCIS is perhaps one of the biggest police application in the world implemented at 36 States and UTs, 727 police districts and at National level using standard input Integrated Investigation Forms, Operating system and RDBMS across the country. – The MHA has entrusted NCRB with a renewed mandate for the Crime and Criminal Tracking Network and Systems (CCTNS) Project. Out of approximately 15000 Police Stations, around 12000 have started registering 100% FIR's online. The application software has been deployed in over 12500 locations. – In view of the technological advancement in the field of IT the application is upgraded to support Gujarati, Marathi, Tamil, Gurmukhi, and Kannada beside Hindi and English to provide regional language support of these regions. – Also the Enquiries and Reports are made web enabled to make crime criminal information available anywhere anytime through internet. Application has facility of decision support to view multi-dimensional view of data on crime, criminal and properties. – This has brought in positive impact amongst the police officers about the application as they can get the information as and when required through internet. This latest version of the application is Christened as CCISMLe. The application is implemented at almost all the locations of the district and state headquarters in the country. •
Vahan Samanvay (Online Motor Vehicle Coordination System):
– In its endeavour of Public Service Delivery, NCRB has released its Motor Vehicle Coordination e-service, named "Vahan Samanvay". This is an excellent citizen centric interface for verification of the status of a motor vehicle (stolen or not) before negotiating for a pre-owned vehicle or recovery status of a stolen vehicle. This also facilitates law enforcement agencies and RTOs while checking the credentials of any vehicle. – Many State/UT police organizations are also operating motor vehicle enquiry counters in their respective States/UTs for the convenience of general public. The enquiry service is also available online for the general public. •
Colour Portrait Building System (CBPS):
– Portrait Building System (PBS) help to extract Face components like Head, Eye, Nose, Mouth, Chin etc., described by witness similar to criminal, from the digitized portraits directory and assemble these components to construct face image of accused. – By using PBS, NCRB has been assisting the Investigating Officers of States/UTs Police, CBI and other police agencies by preparing the Portraits of the accused based on the account given by the eyewitnesses. •
Fingerprint analysis and criminal training system (FACTS):
A FACT is an advanced Automated Fingerprint Identification System. It uses image processing and pattern recognition technique to capture, encode, store and match finger prints including comparison of Chance Prints.
Objectives of facts:
– To maintain and computerize finger print record slips of specified categories of Indian and foreign criminals convicted of offences falling under the schedule of crimes as mandated for CFPB. – To conduct search of references relating to unidentified interstate suspected persons received from police stations and other investigating agencies in India and to search chance prints developed at the scene of crime. – To maintain and computerize the fingerprint records of International criminals and to conduct search of references sent by Interpol Division of CBI, New Delhi.
Facts - data flow: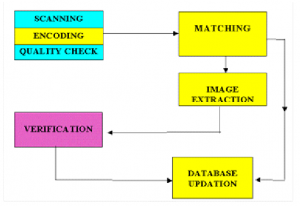 •
Fake Indian Currency Notes Information System (FICN):
– NCRB has created a National level database and developed & deployed Web-enabled software for online recording and reporting of Fake Indian Currency Notes (FICN) Seizures made by State/UT Police, Investigation Agencies, Intelligence Agencies & CAPF and Detections made by Banks (RBI, Public Sector, Private Sector & Foreign Banks). The system is available at NCRB Web-Portal ncrb.gov.in and can be accessed round the clock by Ministry of Home Affairs, Ministry of Finance and other authorized users. Exclusive training-cum-workshops have been conducted for all stakeholders.
Other facts:
– NCRB has recently received
"Digital India Award 2016-Silver Open Data Championship"
from the Ministry of Electronics and Information Technology, Government of India for uploading of Crime Statistics since 1965 on website. – The Central Finger Print Bureau established in 1955, is also embedded in NCRB and is a national repository of all fingerprints in the country and has more than one million ten digit finger prints data base of criminals (both convicted and arrested), provides for search facility on FACTS (Fingerprint Analysis and Criminal Tracing System). It is proposed to upgrade to NAFIS in near future so that police stations will be able to send finger prints/ fire queries directly online to NCRB. – NCRB also assists various States in capacity building in the area of Finger Prints, CCTNS, Network security and Digital Forensics through its training centers in Delhi and Kolkata. NCRB has conducted more than 750 training programmes and trained approximately 16000 officers till date including foreign law enforcement officers (1366 foreign officers from 93 countries). – The Bureau looks forward to fostering of partnership with universities, researchers, NGOs and public. –
CCTNS once fully functional
will allow search for a criminal / suspect on a national data base apart from providing various services to the citizens through Citizen Portal. In future, it is also proposed to connect Police, Courts, Prosecution, Prisons and Forensic Labs into an Interoperable Criminal Justice System (ICJS) for facilitating data exchange between the various pillars of criminal justice system.