Types of Banks
UNIVERSAL BANK
It is financial supermarket where all financial products are sold under one roof.
• It is a system of banking where bank undertake a blanket of financial services like investment banking, commercial banking, development banking, insurance and other financial services including functions of merchant banking, mutual funds, factoring, housing finance etc.
• As per the World Bank, the definition of the Universal Bank is as follows: In Universal banking, the large banks operate extensive network of branches, provide many different services, hold several claims on firms (including equity and debt) and participate directly in the Corporate Governance of firms that rely on the banks for funding or as insurance underwriters.
• The second Narasimham committee of 1998 gave an introductory remark on the concept of the Universal banking, as a different concept than the Narrow Banking. Narsimham Committee II suggested that Development Financial Institutions (DFIs) should convert ultimately into either commercial banks or non-bank finance companies.
• However, the concept of Universal Banking conceptualized in India after the RH Khan Committee recommended it as a different concept. The Khan Working Group held the view that DFIs (Development Finance Institutions) should beallowed to become banks at the earliest.
Advantages of Universal Banking
• Increased diversions and increased profitability.
• Better Resource Utilization.
• Brand name leverage.
• Existing clientele leverage.
• Value added services.
• 'One-stop shopping' saves a lot of transaction costs.
• Easy Marketing
• Profit Diversification
DEVELOPMENT BANK
• Development bank is essentially a multi-purpose financial institution with a broad development outlook.
• A development bank may, thus, be defined as a financial institution concerned with providing all types of financial assistance (medium as well as long term) to business units, in the form of loans, underwriting, investment and guarantee operations, and promotional activities — economic development in general, and industrial development, in particular.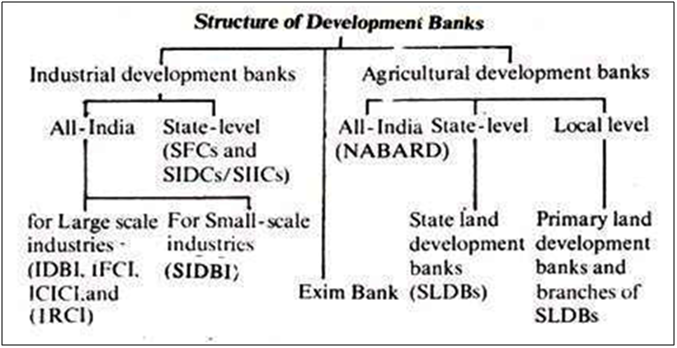 Development banks in India are classified into following four groups:
Industrial Development Banks: It includes, for example, Industrial Finance Corporation of India (IFCI), Industrial Development Bank of India (IDBI), and Small Industries Development Bank of India (SIDBI).
Agricultural Development Banks: It includes, for example, National Bank for Agriculture & Rural Development (NABARD).
Export-Import Development Banks: It includes, for example, Export-Import Bank of India (EXIM Bank).
Housing Development Banks: It includes, for example, National Housing Bank (NHB).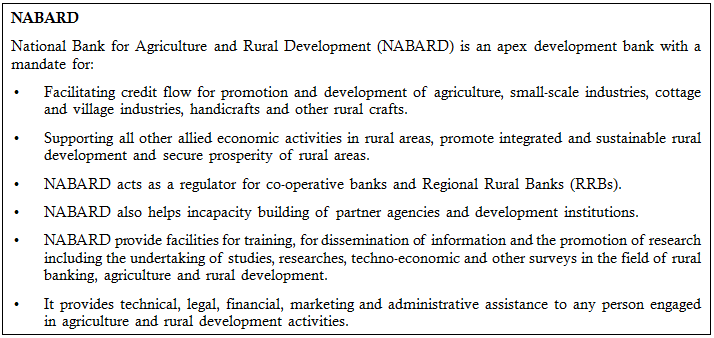 LEAD BANK
Introduced in 1969, based on the recommendations of the Gadgil Study Group on the organizational framework for the implementation of social objectives.
Objectives of Lead Bank Scheme:
• Eradication of unemployment and under employment
• Appreciable rise in the standard of living for the poorest of the poor
• Provision of some of the basic needs of the people who belong to poor sections of the society.
Area Approach
• The basic idea was to have an "area approach" for targeted and focused banking.
• The banker's committee, headed by S. Nariman, concluded that districts would be the units for area approach and each district could be allotted to a particular bank which will perform the role of a Lead Bank.
• The Lead bank Scheme was not fully able to achieve its targets due to shift in policies, complexities in operations, lack of cooperation among various financial institutions and issues shifting to the Financial Inclusion.
• There was a strong need felt to revitalize the scheme with clear guidelines on respecting the bankers' commercial judgements even as they fulfill their sectoral targets.
• The Government of India constituted a High-Power Committee headed by Mrs. Usha Thorat, Deputy Governor of the RBI, to suggest reforms in the LBS. The task of this penal was to recommend how to revitalize the LBS, given the challenges facing the banking sector, especially in an era of increasing privatization and autonomy.
The following were the recommendation of Usha Thorat Committee on Lead Banks
• LBS should be continued to accelerate financial inclusion in the unbanked areas of the country.
• Private sector banks should be given a greater role in LBS action plans, particularly in areas of their presence.
• Enhance the business correspondent model, making banking services available in all villages having a population of above 2,000 and relaxation in KYC (know your customer) norms for small value accounts.
• There is a strong need to revamp and revitalise the Lead Bank Scheme so as to make it an effective instrument for bringing about meaningful co-ordination among banks operating in various part of the country.
PAYMENT BANK
• A payments bank is like any other bank, but operating on a smaller scale without involving any credit risk.
• In simple words, it can carry out most banking operations but can't advance loans or issue credit cards.
• It can accept demand deposits (up to Rs 1 Lakh), offer remittance services, mobile payments/transfers/purchases and other banking services like ATM/debit cards, net banking and third party fund transfers.
• The NachiketMor committee appointed by RBI to propose measures for achieving financial inclusion and increased access to financial services in 2013.The committee submitted its report suggesting creation of specialized bank or Payment Bank to cater the lower income groups and small businesses so that by Jan 2016, each Indian resident can have a global bank account.
Objectives of Payment Bank
• To widen the spread of payment and financial services to small businesses, low income households, migrant labour workforce in secured technology driven environment.
• With payments banks, RBI seeks to increase the penetration level of financial services to the remote areas of the country.
SMALL FINANCE BANK
Small finance banks are a type of niche banks in India. The main purpose of the small banks will be to provide a whole suite of basic banking products such as bank deposits and supply of credit, but in a limited area of operation. The objective for these Small Banks is to increase financial inclusion by provision of savings vehicles to under-served and unserved sections of the population, supply of credit to small farmers, micro and small industries, and other unorganized sector entities through high technology-low cost operations.
RBI guidelines about small bank includes:
• The firms must have a capital of Indian Rupees 100 crore. Existing Non-Banking Financial Companies (NBFC), Micro-Finance Institutions (MFI) and Local Area Banks (LAB) are allowed to set up small finance banks.
• The Corporate Promoter should have 10 years experience in banking and finance.
• The promoters stake in the paid-up equity capital will be 40% initially which must be brought down to 26% in 12 years. Joint ventures are not permitted.
• Foreign share holding will be allowed in these banks as per the rules for Foreign Direct Investment in private banks in India.
• The banks will not be restricted to any region. 75% of its net credits should be in priority sector lending and 50% of the loans in its portfolio must in 25 lakh range.
• The bank shall primarily undertake basic banking activities of accepting deposits and lending to small farmers, small businesses, micro and small industries, and unorganized sector entities. It cannot set up subsidiaries to undertake non-banking financial services activities. After the initial stabilization period of 5 years, and after a review, the RBI may liberalize the scope of activities for Small Banks.
• Small Banks have to meet RBI's norms and regulations regarding risk management. They have to meet CRR, SLR, Repo rate and reverse repo rate requirements, like any other commercial bank.
• The maximum loan size and investment limit exposure to single/group borrowers/issuers would be restricted to 15% of capital funds.
• For the first 3 years, 25% of branches should be in unbanked rural areas.
Classification of Banks
BANKS
• Banks are the financial institutions that are licensed to deal with money and its substitutes by accepting time and demand deposits, making loans, and investing in securities. The bank generates profits from the difference in the interest rates charged and paid.
• Banks are connecting link between the people, who have surplus money and the people who are in need of money. In addition to this, banks undertake the risk arising out of the possible default of the ultimate borrower.
• In other words, bank is an institution which accepts deposits from the public and in turn advances loans by creating credit. The following functions of the bank explain the need of the bank and its importance.
a. To provide the security to the savings of customers.
b. To control the supply of money and credit.
c. To encourage public confidence in the working of the financial system, increase savings speedily and efficiently.
d. To avoid focus of financial powers in the hands of a few individuals and institutions.
e. To set equal norms and conditions (i.e. rate of interest, period of lending etc) to all types of customers.
BANKING SYSTEM IN INDIA
• Banks are classified into Organized and Unorganized banking.
• Un-organized Banking: The part of Indian Banking System which does not fall under the control of our central bank (i.e. Reserve Bank of India) is called as un-organized banking. For example: Indigenous banks.
• Organized Banking: The scheduled banks are those which are entered in the second schedule of RBI Act, 1939. Scheduled banks are those banks which have a paid up capital and reserves of aggregate value of not less than Rs 5 lakhs and which satisfy RBI guidelines.
• The Organized (Scheduled) Banking Sector can be categorized into three major categories:
a) Central Bank of the Country (RBI)
b) Commercial Banks
c) Cooperative Banks
CENTRAL BANK – RBI
RBI is an apex institution in the banking and financial structure of the country which plays a crucial role in organizing, running, supervising, regulating and developing the banking and financial structure of the economy. India's Central Bank is known as the Reserve Bank of India.
Historical Background of RBI
• In 1926, the Royal Commission on Indian Currency and Finance which is also known as the Hilton-Young Commission recommended the creation of a central bank.
• The idea was twofold
– To separate the control of currency and credit from the government.
– To augment banking facilities throughout the country.
• The Reserve Bank of India Act of 1934 established the Reserve Bank as the banker to the central government and set in motion a series of actions culminating in the start of operations on April 1, 1935.
• RBI was nationalizedin 1949.
• It has four Zonal offices at Delhi, Kolkata, Chennai and Mumbai for four regions: Northern, Eastern, Southern and Western regions respectively. RBI has 19 offices, which are located in state capitals and a few major cities in India. In addition, there are 9 sub-offices of RBI.
Functions of Central Bank (RBI)
• Bank of Issue: It has a sole authority to issue currency notes and coins through the issue department, which is solely responsible for the issue of notes and coins.
• Banker to Banks and Government: As the Banker's bank, RBI acts as the custodian of cash reserves of commercial and other Banks.
• Commercial banks are under statutory obligation to keep a part of their deposits as reserves with the central bank.
• The central bank provides credit, mainly short-term credit, to the commercial banks. It provides them guidance and direction and regulates their activities.
• Commercial banks are required to shape their policy in accordance with these directions and guidance of the central bank.
• As the banker and financial adviser to the government the central bank receives the deposits of cash, cheques, drafts etc. from the government.
• It provides cash to the government for paying salaries and wages and other cash disbursements. It makes payments on behalf of the government.
• It gives short-period loans to the government. It buys and sells foreign currencies on behalf of the government.
• Lender to Last Resort: RBI helps commercial banks when they have exhausted their resources and are in financial need. In its capacity as the lender of the last resort, the central bank provides, directly or indirectly all reasonable financial assistance to commercial banks.
• Controller of Credit: RBI controls the credit creation by the commercial banks which are regarded as the most important function of Central Bank.
• At present, Credit Money or Bank Money is the dominant form of money and essentially requires the supply of credit to be regulated so as to ensure the smooth functioning of the economy.
• For this, the central bank adopts quantitative and qualitative methods of credit control. Quantitative methods aim at controlling the cost and availability of credit, while the qualitative method influences the use and direction of credit.
How is Central Bank different from Commercial Banks?
• On the basis of Profit: A central bank does not aim at making profits like a commercial bank and hence is not a profit making institution. It acts in the public interest so as to control and regulate the banking and financial system of the country.
• On the basis of functions performed: A central bank does not perform ordinary commercial banking functions such as accepting deposits from the general public of the country.
• Ownership: A central bank is an organ of the government and, therefore, is owned by the government and managed by the government officials. But a commercial bank is generally maybe owned by both, private individuals as shareholders and by the government.
• Issuer of Currency: A central bank has sole monopoly of note issue, but commercial banks cannot issue notes.
COMMERCIAL BANKS
• Commercial Banks are created for profit motive.
• Scheduled Commercial Banks (SCBs) are grouped under following categories:
– Nationalized Banks
– Foreign Banks
– Regional Rural Banks
• Nationalized Banks
– State Bank of India and its associates along with the nationalized banks such as the IDBI Banks, Indian Bank, Dena Bank etc. are all public sector banks.
– Other scheduled commercial banks include private banks such as ICICI, Axis, HDFC bank etc. operating in the country.
• Foreign Banks
– Operating in the country include Deustche Bank, Bank of America, Citibank, HSBC, and Royal Bank of Scotland etc.
• Regional Rural Banks
– Regional rural banks came into being in the 1970s with the objective of providing deposit and credit facilities to the people in rural areas especially the small and marginal farmers, agricultural labourers, and small entrepreneurs.
– Even though these banks count as the scheduled commercial banks but their focus and reach is generally limited to a district or two.
– Some of the examples of Regional Rural Banks are Assam GraminVikash Bank, Allahabad UP Gramin Bank, Baroda Gujarat Gramin Bank etc.
– At present there are 91 RRBs functioning in India.
CO-OPERATIVE BANKS
• It is an institution established on the basis of cooperative principles and dealing in ordinary banking business with 'No Profit No Loss Basis'.
• These banks are controlled, owned, managed and operated by cooperative societies and came into existence under the Cooperative Societies Act in 1912.
• These banks are located in the urban as well in the rural areas. Although these banks have the same functions as the commercial banks, but their rate of interest is low in comparison to other banks.
• At present, there are 170 scheduled commercial banks in the country, which includes 91 Regional Rural Banks (RRBs), 19 Nationalized Banks, 8 Banks in State Bank of India Group and the Industrial Development Bank of India Limited (IDBI Ltd).
There are three types of cooperative banks in India, namely
• Primary Credit Societies: These are formed in small locality like a small town or a village. The members using this bank usually know each other and the chances of committing fraud are minimal.
• Central Cooperative Banks: These banks have their members who belong to the same district. They function as other commercial banks and provide loans to their members. They act as a link between the state cooperative banks and the primary credit societies.
• State Cooperative Banks: these banks have a presence in all the states of the country and have their presence throughout the state.
NON-SCHEDULED BANKS
• Banks not under 2nd Schedule of the Reserve Bank of India Act, 1934. These are also known as Local Area Bank.
• Non-scheduled banks are also subject to the statutory cash reserve requirement. But they are not required to keep them with the RBI; they may keep these balances with themselves.
• They are not entitled to borrow from the RBI for normal banking purposes, though they may approach the RBI for accommodation under abnormal circumstances.
There are 5 Non-Scheduled Urban Cooperative Banks in India
• AkhandAnand Co-Operative Bank Ltd.
• Alavi Co-Op Bank Ltd.
• Amarnath Co-operative Bank Ltd.
• AmodNagrikSahakari Bank Ltd.
• AmreliNagrikSahakari Bank Ltd.
Along with this 4 local area banks in India which, forms under non-scheduled list of Banking as per RBI
• Coastal Local Area Bank Ltd.
• Capital Local Area Bank Ltd.
• Krishna BhimaSamruddhi Local Area Bank Ltd.
• Subhadra Local Area Bank Ltd.
FUNCTIONS OF SCHEDULED COMMERCIAL BANKS
The primary business of any commercial bank is to accept deposits and give short term loans. Apart from this, a scheduled commercial bank performs a number of other useful functions to the society such as:
a. Collection of Deposits
b. Advancing Loans
c. Utility Services
d. Agency Services
Collection of Deposits: Most important function of commercial bank. These deposits can be of various forms:
• Fixed Deposits: These are the deposits for a fixed period to earn interest by the customers of a bank. Such deposits have high interest rate than the other types of deposits. In case the customer withdraws money before the end of stipulated term of deposit, s/he has to pay penalty.
• Saving Bank Deposit: These are deposits made by persons out of their expenditure. These banks function with the intention to culminate saving habits among people, especially those who belong to low income groups or those who are salaried.
• The money these people deposit in the banks are invested in securities, bonds etc. These days, many commercial banks perform the dual functions of savings bank. The postal department is also in a way a saving bank.
• Current Account Deposits: Also known as demand deposit. The bank opens this account on an initial deposit of Rs. 100 but certain conditions have to be met to prove credit worthiness of the customer. There are no limitations on the amount of deposit and number of withdrawals. Generally, no interest is paid on current deposits.
Advancing loans: Commercial banks also play an important role in the economy by providing loans to industries, individuals, businesses, agriculture etc. They also provide loans for export and import trade.
Utility services: Commercial banks perform various services useful to the customer. Some of them have been listed below:
• Locker facility: Banks provide locker facility to customers to keep their valuables, such as securities, jewellery, documents etc.
• Draft facilities: Banks issue drafts to customers and enable them to transfer funds from place to place.
• Letters of credit: Banks issue letters of credit to their customers. These are useful to traders to buy goods from foreign countries on credit.
Agency Services: Commercial banks also perform several activities on behalf of their customers.
• Collections: Commercial banks take up collection of promissory notes, cheques, bills, dividends, subscriptions, rents, etc., on behalf of their customers as agents. The bank charges 'service charges' for rendering these services to its customers.
• Payments: Banks also accept the responsibility to pay insurance premium, rents, taxes, electricity bills, etc. periodically on behalf of its customers for whom they charge commission.
• Sale and purchase of securities: Customers sometimes approach the bankers for sale and purchase of their securities. For these services the banks charge commission.