Zonal Cultural Centres
Zonal Cultural Centres have been conceptualised with the aim of projecting cultural kinship which transcend territorial boundaries. The idea is to arouse awareness of the local cultures and to show how these merge into zonal identities and eventually into the rich diversity of India's composite culture.
The Seven ZCCs with Headquarters and States, they cover are as follows: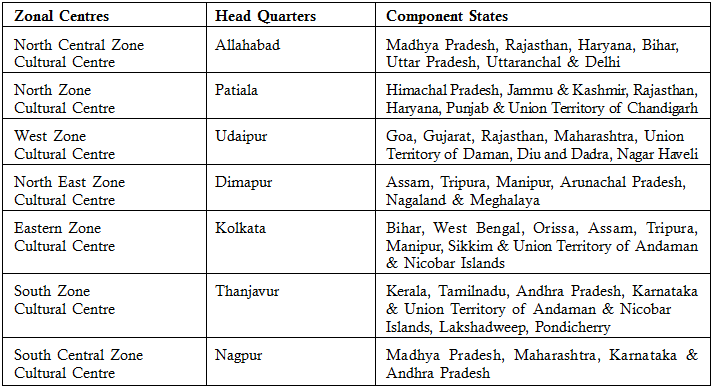 The main objectives of the ZCCs are the preservation, promotion and dissemination of the traditional folk arts and culture of the various States/Union Territories. The ZCCs have been carrying out various activities and programmes at the national, zonal and local levels in accordance with their aims and objectives implemented through various schemes.
They have been implementing the following schemes to preserve and promote traditional art and culture:
These are: National Cultural Exchange Programme; Guru Shishya Parampara Scheme; Young Talented Artistes Scheme; Documentation of Vanishing Art Forms; Theatre Rejuvenation Scheme; Shilpagram Activities and Loktarang – National Folk Dance Festival and Octave.
The Government organizes various cultural programmes through its organizations like Zonal Culture Centres (ZCCs), Akademies etc. to promote Indian culture for all walks of people including youth. The various social media platforms like Facebook, Twitter, You Tube and Mobile Apps are being used for providing regular updates about the cultural programmes/events being organized by various organizations.