Army tag for new gecko from Meghalaya
Context
A new gecko species found in Meghalaya named after Indian Army.
About
About the new species: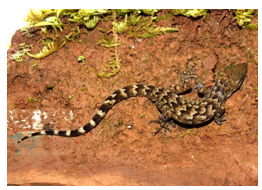 Another new species:
The new species from Mizoram were given the scientific name Cyrtodactylus siahaensis and English name Siaha bent-toed gecko.

The species was named after Siaha (district capital of Siaha District), where the species was found.

The suggested local name is Khotlia (which means bent-toed geckos in Mara ethnic language).

This species was found from the type locality near human settlements of Siaha town.

Being a strictly nocturnal species, they are most active two to five hours after dark.
Verifying, please be patient.