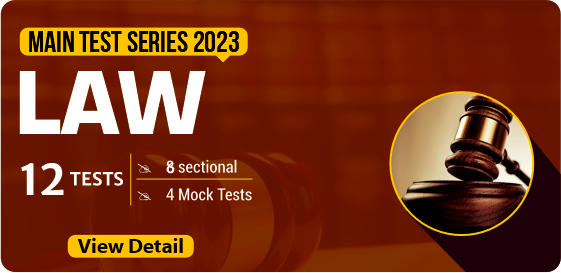 Batch Starts: 18th June
Test Timing : 9:00 AM to 12:00 PM
Mains Test Series 2023: LAW Test Series

Highlights
The Test Series for Civil Services Exam is a crucial tool for evaluating your preparation level and identifying areas that require improvement. For Law as an optional subject, consistent revision and practice of answer writing are essential. An ideal test series can be highly beneficial in achieving these goals. The GS SCORE Law Test Series 2023 is an excellent resource that not only allows you to assess your performance but also consolidates your learning effectively. The GS SCORE Law Optional Test Series has become synonymous with quality and reliability, and enrolling in this test series can significantly enhance your preparation for the Civil Services Exam. With this test series, you can increase your chances of success and excel in the highly competitive Civil Services Exam.
Total 12 Tests:

8 sectional Tests &

4 Mock Tests.

Elaborate Discussion after each test.

Detailed Model Answer Hints.

Copy Evaluation & Discussion

After submission of copy, Evaluation will be done within a week.

After copy evaluation One on One discussion with faculty will be conducted.
LAW QIP + Test Series 2023
Course Fee

₹ 12000/-
course Fee
(+GST)

₹ 12000
Course Fee
(+GST)
Online Procedure
Tests will be uploaded in PDF format in your My Account.
To write the test students have to download the PDF of test paper booklet or write the test in A4 sheet with proper spacing as per UPSC pattern. After writing the test send us back scanned copy in pdf format for evaluation.
Further evaluated test copy will be sent back to the students within a week after receiving the answer sheet.
Test discussion video will be uploaded into your account on the scheduled test date.
Once student will receive evaluated copy, one to one discussion with concerned faculty/experts will be arranged via phone call or live interaction.
Soft Copy notes, if any will be uploaded in PDF format into your account.


Verifying, please be patient.