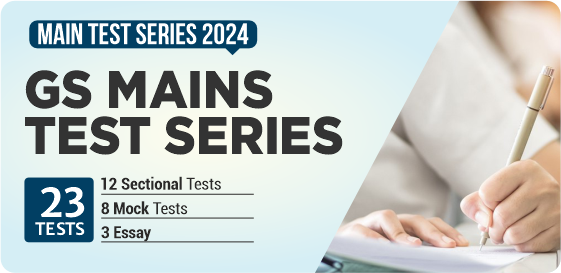 Batch Starts: 08th October
Test Timing : 9:00 AM Onwards
IAS Mains 2024: GS Mains Test series

Highlights
GS SCORE holds immense pride along with a sense of responsibility that our GS Mains Test Series have proved its utility time and again. Our GS Mains Test Series 2024 is a program for the aspirants who need step-wise gradual improvement in their writing skills through tests, providing the real-time experience of the examination, evaluation, and marks improvement tips. This test series will ensure a sense of completion of the syllabus through answer writing.
Total 23 Tests including :

12 Sectional Tests + 3 Essay + 8 Mock Tests

Detailed discussion after each sectional test.
Discussion will be focused on conceptual clarity and answer writing skills.
Detailed Model Answers for Quick Revision.
Copy Evaluation and Discussion
Programme-1: Total-15 Tests (12 Sectional + 3 Essay)
Programme-2: Total-23 Tests (12 Sectional + 3 Essay + 8 Mock Tests)
Course Fee

₹ 12500/-
course Fee
(+GST)

₹ 12500
Course Fee
(+GST)
Online Procedure
Tests will be uploaded in PDF format in your My Account.
To write the test students have to download the PDF of test paper booklet or write the test in A4 sheet with proper spacing as per UPSC pattern. After writing the test send us back scanned copy in pdf format for evaluation.
Further evaluated test copy will be sent back to the students within a week after receiving the answer sheet.
Test discussion video will be uploaded into your account on the scheduled test date.
Once student will receive evaluated copy, one to one discussion with concerned faculty/experts will be arranged via phone call or live interaction.
Soft Copy notes, if any will be uploaded in PDF format into your account.


Verifying, please be patient.