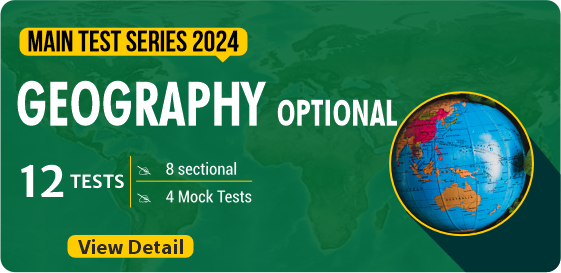 Batch Started: 24th September
Timing : 9:00 AM to 12:00 PM
Mains Test Series 2024: Geography Test Series

Highlights
Geography is optional that is opted by many of the aspirants in Civil Services Exam owing to its scientific orientation and overlapping nature with General Study's papers. Since the past few years, this optional has seen a phenomenal success rate in UPSC Exam. Test series remains a vital component for the preparation of this optional as it helps you to consolidate your learning and secure better marks. The exclusive features like after-test discussion, one on one discussion with equal emphasis on contemporary issues.
Total 12 Tests:

8 sectional Tests &

4 Mock Tests.

Elaborate Discussion after each test.

Detailed Model Answer Hints.

Copy Evaluation & Discussion

After submission of copy, Evaluation will be done within a week.

After copy evaluation One on One discussion with faculty will be conducted.
Course Fee

₹ 10000/-
course Fee
(+GST)

₹ 10000
Course Fee
(+GST)
Online Procedure
Tests will be uploaded in PDF format in your My Account.
To write the test students have to download the PDF of test paper booklet or write the test in A4 sheet with proper spacing as per UPSC pattern. After writing the test send us back scanned copy in pdf format for evaluation.
Further evaluated test copy will be sent back to the students within a week after receiving the answer sheet.
Test discussion video will be uploaded into your account on the scheduled test date.
Once student will receive evaluated copy, one to one discussion with concerned faculty/experts will be arranged via phone call or live interaction.
Soft Copy notes, if any will be uploaded in PDF format into your account.


Verifying, please be patient.