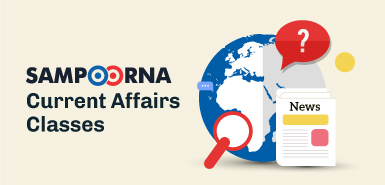 IAS 2022: Prelims Sampoorna Current Affairs Classes
60 hrs. Program for Complete Revision of Prelims Current Affairs 2022

₹ 6000/-
course Fee
(+GST)

₹ 6000
Course Fee
(+GST)

Batch Started: 12th April
02:00 PM to 05:00 PM
Complete Coverage of 1.5 year current affairs for Prelims through Daily Test & Class
Coverage of more than 800 Highly Relevant Topics
23 Class & Tests on Current Affairs including:

3 Geography Mapping Tests & Classes
Economic Survey & Budget Class & Tests

Doubt Clearing Session after Completion of each subject
Sources to be covered: Newspapers, Budget, Economic Survey, Down to Earth, Yojana, Kurukshetra & PIB
Compact Study Material (PDF)
Forward
Current Affairs for Civil Services Examination is an area which is by far the most important aspect of the GS papers and also perhaps the most difficult area to master. Important, because good number of questions, whether they are in the prelims or the mains, draw their inspiration from what is happening in the contemporary context, and difficult, because of its vastness and difficulty in identifying what is important and what is not. In the process of current affairs' preparation, most crucial is the listing of topics and ability to comprehend facts in order to utilize it efficiently in the examination. This is by far the most important aspect of studying current affairs. Our approach is to cover more than 800 Topics through Test, Class and Study Material support.
It is an integration of concepts and range of information, as the combination of both is crucial for Prelims examination in the changing scenario. We will also cover Economic Survey and Budget along with current affairs tests in this program.
Outcome of the Program
Performance Improvement: By providing complete coverage of Current Affairs, this special course would boost the exam and chances of selection.
Assessment: Through regular tests and monitoring, the course will help students to assess their knowledge and scope of improvement.
Conceptual Clarity: Students would not only learn about current affairs, but they would also develop perspective and conceptual understanding for the subjects.
Effective Organization & Utilization: The course would help to organize your knowledge effectively and its further utilization in all spheres.
Online Classes
To enroll student has to register on the website using Registration Form or Google Login or Facebook Login.
If already registerd login with your username and password which you have used for registration.
Account for Online Classes will be activated within one working day of Enrollment or before batch Starts.
Classes will be conducted online as per the class schedule.
Weekly Class Schedule will be uploaded into students account with session plan and doubt clearing sessions schedule.
Study Material is into two formats i.e. printed and pdf.
Printed Study Material, if any will be dispatched by courier within a week of enrollment.
Soft Copy notes will be uploaded in PDF format into your account.
Prelims Test Series
Test schedule will be given in advance. Test will be activated on the scheduled date.
Once a test is activated you can write it as per your suitable time (Flexible Test Timings).
Tests will be submitted once you click the submit button or it crosses the time limit.
After submission of the test you will get your score and All India Ranking.
Detailed model answers will be provided.
Your score and performance chart will be available in your "My Account" section for future access.
Verifying, please be patient.