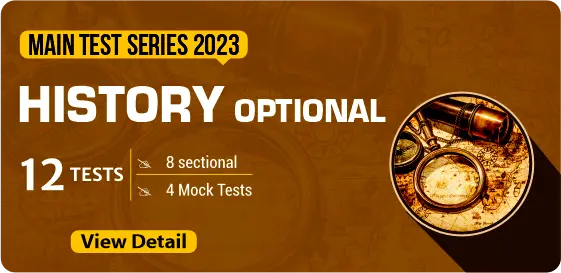 Batch Starts: 17th June
Timing : 9:00 AM to 12:00 PM
Mains Test Series 2023: History Test Series

Highlights
The Test Series in Civil Services Exam has an important place as it lets you check your preparation level and spot your weaker areas. History is an optional subject that needs constant revision and answers writing practice. A good test series in this regard could be helpful in serving both purposes. GS SCORE History Test Series 2023 does not only help you to track your performance but also consolidate your learning in an effective manner. GS SCORE History Optional Test Series has proved to be a hallmark of quality and reliability.
Total 12 Tests:

8 sectional Tests &

4 Mock Tests.

Elaborate Discussion after each test.

Detailed Model Answer Hints.

Copy Evaluation & Discussion

After submission of copy, Evaluation will be done within a week.

After copy evaluation One on One discussion with faculty will be conducted.
History QIP + Test Series 2023
Course Fee

₹ 12000/-
course Fee
(+GST)

₹ 12000
Course Fee
(+GST)
Online Procedure
Tests will be uploaded in PDF format in your My Account.
To write the test students have to download the PDF of test paper booklet or write the test in A4 sheet with proper spacing as per UPSC pattern. After writing the test send us back scanned copy in pdf format for evaluation.
Further evaluated test copy will be sent back to the students within a week after receiving the answer sheet.
Test discussion video will be uploaded into your account on the scheduled test date.
Once student will receive evaluated copy, one to one discussion with concerned faculty/experts will be arranged via phone call or live interaction.
Soft Copy notes, if any will be uploaded in PDF format into your account.


Verifying, please be patient.