Andaman & Nicobar's first application for the GI tag is for "Nicobari hodi craft"
Context
The GI Registry at Guindy, Chennai, has received an application from the Tribal Development Council, Andaman & Nicobar Islands, seeking the GI tag for the Nicobari hodi craft.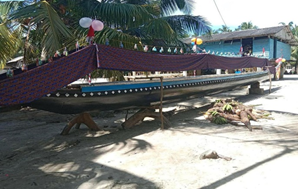 About
About Nicobari hodi:
"Hodi is the Nicobari tribe's traditional craft.

It is an outrigger canoe, very commonly operated in the Nicobar group of islands.
The technical skills for building a hodi are based on indigenous knowledge inherited by the Nicobarese from their forefathers.
The hodi is built using either locally available trees or from nearby islands, and its design varies slightly from island to island.
Considerations to be taken into account include the length of the finished canoe, which has to be 12 times that of its width while the length of the undressed tree trunk has to be 15 times this width.

Hodis is used for transporting people and goods from one island to another, for sending coconuts, and for fishing and racing purposes.

Hodi races are held between islands and villages.

This is the first application from the Union Territory seeking a tag for one of its products.
Significance of Nicobar Islands:
Nicobarese and Shompens

belonging to Mongoloid race inhabit these islands which differ from the Andaman tribes belonging to the Negritoid race.
The major population of the Nicobari tribe is living in Car Nicobar Island which is one among the 11 inhabited islands of the Nicobar district under the Union territory of Andaman and Nicobar Islands.
This island is flat with some cliffs and surrounded by white sandy beaches with bluish unpolluted water.
The economy of the Nicobari tribe is intricately linked with the forest through coconut plantation and sea through fishing.
The traditional craft of the Nicobari tribe is the Hodi, which is an outrigger canoe, very commonly operated in the Nicobar group of Islands.


In Andaman and Nicobar Islands, except for the Jarawa tribe, other tribes are using different kinds of outrigger canoes.
About Geographical Indication (GI) Tag:
A Geographical Indication (GI) is a sign used on products that have a specific geographical origin and possess qualities or a reputation that are due to that origin. In order to function as a GI, a sign must identify a product as originating in a given place.

In addition, the qualities, characteristics, or reputation of the product should be essentially due to the place of origin.
Verifying, please be patient.