48th Khajuraho Dance Festival begins in Madhya Pradesh
Context
The 48th Khajuraho Dance Festival begins at Khajuraho in Madhya Pradesh.
About
About Khajuraho Dance Festival:
The festival is one of the most celebrated ones in the country, which showcases various dance forms of the country.
The festival is organised by the Department of Culture of the government of Madhya Pradesh.
It takes place every year against the spectacular backdrop of these ancient temples.
Background: The dance festival was started being organised at this site some 46 years ago in 1974 with the objective of promoting the heritage and tourism.
It is a one-week festival of classical dances.
It is organised in the premise of the Khajuraho temples in Chhatarpur, Madhya Pradesh.
The dance festival showcases the richness of Indian classical dance styles including the Odissi, Kathak, Bharatanatyam, Manipuri, Kuchipudi, and Kathakali.
About Khajuraho:
Khajuraho is an ancient city known for magnificent temples and its intricate sculptures located in the Chhatarpur district of Madhya Pradesh.
It was built in the medieval century by the Chandela Dynasty.
The UNESCO site of 'Khajuraho Group of Monuments' is famous for its Nagara-Style architecture and graceful sculptures of nayikas and deities.
The splendour of the intricate statues is one of the reasons that make it a popular site to visit among tourists.
Built between 950-1050 AD by the Chandela Dynasty, these temples represent various forms like meditation, spiritual teachings, relationship, through stimulating art.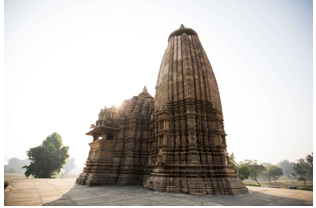 Some of the prominent temples that have stood the test of time here are Kandariya Mahadeva, Chaunsath Yogini, Lakshmana, Devi Jagadamba, Chitragupta and Parsvanath.
The Kandariya Mahadeva temple is the largest of them all and consists of 872 statues.
The Chaunsath Yogini temple is the oldest one in Khajuraho and as the name suggests, it once had 64 cells dedicated to yoginis or female attendants.
Verifying, please be patient.