Comprehensive Economic Partnership Agreement between India, UAE will create 10 lakh jobs for youth of the country
Context
India and the UAE recently signed a Comprehensive Economic Partnership Agreement (CEPA).
About
India-UAE Relation:
UAE is India's third-largest trading partnerand second largest export destination.
In the last financial year, the UAE was India's third biggest export and import market with $60 billion in trade, behind the US ($67.4 billion) and China ($65.1 billion).
India's major exports to the UAE include petroleum products, precious metals, stones, gems and jewellery, minerals, food items -- such as cereals, sugar, fruits and vegetables, tea, meat, and seafood -- textiles, engineering and machinery products, and chemicals.
India's top imports from the West Asian country are petroleum and petroleum products, precious metals, stones, gems and jewellery, minerals, chemicals, and wood and wood products.
Looking to build on the progress made by both countries under the Comprehensive Strategic Partnership signed in 2017, both countries expressed a desire to reach a mutually beneficial economic deal.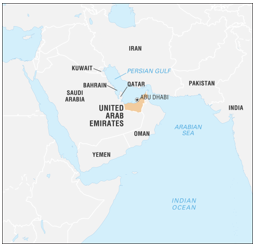 Significance of India-UAE CEPA:
The UAE-India CEPA is India's first bilateral trade agreement in the Middle East and North Africa (Mena) region.
It is expected that the CEPA will lead to an increase in bilateral trade from the current $60 billion to $100 billion in the next five years.
The agreement will open up a lot of opportunities for our MSMEs and provide job opportunities to the tune of 1 million for India.
Safeguard against tariff surge: The trade deal has provided a permanent safeguard mechanism, which will protect exporters and businesses from both countries from any unwarranted surge in volumes of any particular product.
90 per cent products exported from India will have zero duty in UAE.

Some of the products which were listed out are textile which includes readymade garments, pharmaceutical products, agriculture products, food processing products, footwear, leather, sports and engineering goods, gems and jewellery and all those products which come from labour oriented sector.

In the gold and jewellery sector, India will benefit from easier access to the UAE, helped by changes to the customs duty.

It will mean that India-made jewellery can be brought to the UAE at competitive rates.
Currently, the UAE has an import duty of 5 per cent on these items.
What is CEPA?
Partnership agreement or cooperation agreement are more comprehensive than an FTA.
CECA/CEPA also looks into the regulatory aspect of trade and encompasses and agreement covering the regulatory issues.
CECA has the widest coverage. CEPA covers negotiation on the trade in services and investment, and other areas of economic partnership.
It may even consider negotiation on areas such as trade facilitation and customs cooperation, competition, and IPR.
India has signed CEPAs with South Korea and Japan.
Verifying, please be patient.