Russia world's top wheat exporter: Data
Context
According to the latest update, Russia is consolidating its position as the world's top wheat exporter, even as Ukraine's shipments are projected to more than halve from their peak and production plunge to a 11-year-low.
This is a point of concern for countries dependent on Russia for wheat export.
Russia's Wheat Export:
Today, Russia ships more than 18 percent of the world's supply, followed by the US (16 percent), Canada (14 percent), France (10 percent) and Ukraine (seven percent).
The primary destinations for Russian wheat are the Middle East, North Africa and Central Asia, led by Egypt, Iran and Algeria.
Egypt is the world's biggest importer of wheat. It spends more than 4bn dollars annually to feed its population of over 100 million.
While the Black Sea Grain Initiative helped Ukraine export 16.8 MT in 2022-23, about 39% of its wheat actually moved via the land route to Eastern Europe, instead of the specially-created corridors for shipping from the three designated ports of Odesa, Chornomorsk and Yuzhny.
The creation of ports and the devaluation of the rouble have also contributed to Russia gaining the increased share on wheat sales.
In 2019, Russia and Ukraine together exported more than a quarter (25.4 percent) of the world's wheat, according to the Observatory of Economic Complexity (OEC).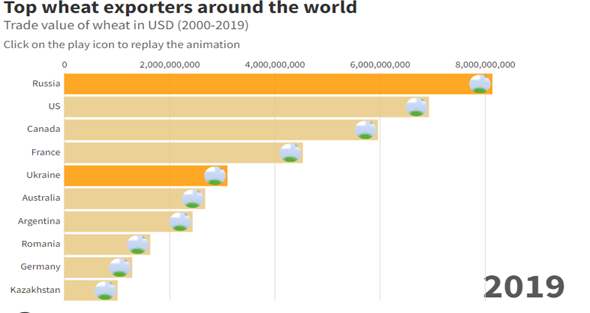 How Russia is getting an edge in Wheat Exports?
Due to Strategic location: The Black Sea is a key region for Moscow.
According to Carnegie Endowment for International Peace, black sea would allow Russia to protect trade links with European markets as well as up the dependency of southern Europe on Russian oil and gas and act as a security buffer zone.
Self-imposed bans: Export volumes could be even larger, but the Russian government continues to apply export taxes and quotas, trade-restricting measures that are self-imposed.
Increase in production: Russian production of grains and oilseeds has increased significantly due to both expansion of area for some crops and improved yields for others.
In 2022-23, production increased for all major grains and oilseeds.
Larger stocks: Stock levels were larger than normal because of export restrictions imposed by the government during the previous marketing year to ensure sufficient domestic supplies and maintain lower domestic prices.
Impact on India:
Sanctions on export capacity from Ukraine and Russia, and rising energy and fertiliser prices are pushing up international food prices, thereby threatening global food security.
In the short-term, efforts should focus on providing logistical support to Ukraine to enable agricultural exports.
Moreover, international trade in food and fertiliser should remain open to enable the necessary trade adjustments and to prevent the war from amplifying global food insecurity.
Economic sanctions imposed on Russia could also disrupt its imports of agricultural inputs, on which it is highly dependent, especially pesticides, seeds, veterinary medicines and agricultural technology (e.g. machinery and software).
Reduced access to these inputs could affect the future production potential of Russian agriculture.
Verifying, please be patient.
Our Centers
DELHI (Karol Bagh)
GS SCORE, 1B, Second Floor, Pusa Road, Karol Bagh, New Delhi - 110005 (Beside Karol Bagh Metro Station Gate No. 8)
BHUBANESWAR (Jaydev Vihar)
GS SCORE, Plot No.2298, Jaydev Vihar Square, Near HCG Day Care, BBSR - 751013
LUCKNOW (Aliganj)
GS SCORE, 2nd Floor, B-33, Sangam Chauraha, Sector H, Aliganj, Lucknow, UP - 226024