Drought in Europe 2022
Context
Europe has been burning. As a brutal drought and record-breaking heat gripped the continent this summer, crops withered and forest fires raged.
Europe is suffering through its worst drought in 500 years, says the European Drought Observatory, a service run by the European Commission's Joint Research Center.
About
The current situation
Almost half of Europe is experiencing a severe drought.
France, Germany, Spain, Portugal, Italy, the Netherlands, Norway and the UK are among the countries that have been exposed to the high levels of drought.
Impact
Impacted agriculture and drinking water supplies
disruption in Europe's waterways
Impacted crops:
Corn in Romania
Rice in Italy
Beans in Belgium
Beets and garlic in France
Olives in Spain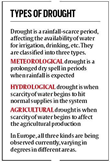 Olive Crop of Spain:
The Olive trees thrive in a Mediterranean climate and need a minimal amount of rain.
Spain produces half of the world's olive oil. It is often called the olive oil capital of the world.
Factors responsible for the drought
The currently rainfall deficit is mostly attributed to a weakened jet stream bringing moisture from Atlantic to Europe, combined with frequent heatwaves hitting all around the planet and Europe.
Over a couple of years, Europe has undergone dryness. The shift may be linked to a high-pressure system in the North Atlantic known as the Azores High, which has expanded as the planet has warmed.
What is The Azores High?
The Azores High is a large subtropical semi-permanent centre of high atmospheric pressure typically found south of the Azores archipelago in the Atlantic Ocean.
Formed by dry air descending in the subtropics, the Azores High, which usually sits off Spain, has grown larger and is being pushed northwards.
This has brought scorching temperatures to the UK, France and the Iberian peninsula.
The size and intensity of the Azores high shifts year on year, driving variations in rainfall levels over the continent.
As such, it's been referred to as a 'gatekeeper of precipitation' over Europe.
While it usually sits off Spain, it has recently grown larger and is being pushed further north, bringing scorching temperatures to the UK, France, and the Iberian peninsula.

Verifying, please be patient.
Our Centers
DELHI (Karol Bagh)
GS SCORE, 1B, Second Floor, Pusa Road, Karol Bagh, New Delhi - 110005 (Beside Karol Bagh Metro Station Gate No. 8)
BHUBANESWAR (Jaydev Vihar)
GS SCORE, Plot No.2298, Jaydev Vihar Square, Near HCG Day Care, BBSR - 751013
LUCKNOW (Aliganj)
GS SCORE, 2nd Floor, B-33, Sangam Chauraha, Sector H, Aliganj, Lucknow, UP - 226024