Cure for drug-resistant tuberculosis (DR-TB)
Context
Recently, Johnson & Johnson's patent expired on 'Drug Bedaquiline- a medicine for drug-resistant TB'. This long-awaited expiry will allow generic manufacturers to supply the drug.
Also, the Indian Patent Office rejected U.S. pharmaceutical giant Johnson & Johnson's (J&J) attempt for Evergreening of Patent on manufacturing of the anti-tuberculosis drug Bedaquiline in India beyond July 2023.
What is Evergreening of Patents?
The evergreening of patents is a practice of tweaking drugs in order to extend their patent term and thus their profitability.
The Indian Patents Act 1970 introduced many provisions to prevent the mischievous practice of "evergreening" of patents.
About Tuberculosis: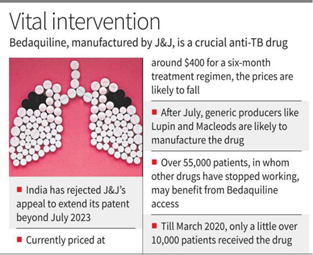 It is caused by bacteria (Mycobacterium tuberculosis)that most often affect the lungs.
Transmission:TB is spread from person to person through the air. When people with lung TB cough, sneeze or spit, they propel the TB germs into the air.
Symptoms:Cough with sputum and blood at times, chest pains, weakness, weight loss, fever and night sweats.
Treatment:TB is treatable and curable disease. It is treated with a standard 6 month course of 4 antimicrobial drugs that are provided with information, supervision and support to the patient by a health worker or trained volunteer.
Forms of TB:
Multidrug-resistant Tuberculosis:
It is a form of TB caused by bacteria that do not respond to isoniazid and rifampicin,the 2 most powerful, first-line anti-TB drugs.
MDR-TB is treatable and curable by using second-line drugs.
Extensively drug-resistant Tuberculosis:
It is a more serious form of MDR-TB caused by bacteria that do not respond to the most effective second-line anti-TB drugs,often leaving patients without any further treatment options.
Major Drugs:
First line medications: Rifampin, isoniazid, pyrazinamide, and ethambutolare first-line antitubercular medications, which are FDA-approved and indicated for the treatment of Mycobacterium tuberculosis infections.
For Drug-resistant TB: Fluoroquinolones (levofloxacin or moxifloxacin), bedaquiline, and linezolid are strongly recommended for a longer MDR-TB regimen.
Generic medicines in India:
India is the largest manufacturer of generic medicines
Its pharmaceutical industry plays a crucial role in global healthcare, providing affordable generic medicines that impact the lives of the global poor.
It is currently valued at USD 50 Bn being a major exporter of Pharmaceuticals, with over 200+ countries served by Indian pharma exports.
It is expected to reach USD 65 Bn by 2024 and to USD 130 Bn by 2030.
Role of Generic medicines for TB:
As to aid millions of people who can't afford the expensive modified drugs, as well as for the development of the domestic generic drug market, development of generic medicines are important for India.
India holds the highest burden of Tuberculosis patients, thus needs a sustainable drug mechanism which can be affordable by all.
Related Government Initiatives:
Production Linked Incentive (PLI) Scheme for Pharmaceuticals
Promotion of Bulk Drug Parks Scheme
Strengthening Pharmaceuticals Industry Scheme