Swadesh Darshan 2
Context
The Government is going to launch the 'Swadesh Darshan 2' Scheme with the sites being selected from 15 States across the country to move forward from theme-based destinations to Potential tourist destinations.
About
Swadesh Darshan Scheme:
Swadesh Darshanis a Central Sector Scheme.
The scheme was launched in 2014-15 for the integrated development of theme-based tourist circuits.
Under the scheme, the Ministry of Tourismprovides financial assistance to State governments, Union Territory Administrations, or Central Agencies for the development of tourism infrastructure in the country.
The scheme was envisioned to synergize with other government schemes such as Swachh Bharat Abhiyan, Skill India, and Make in India with the idea of positioning the tourism sector as a major engine for job creation, the driving force for economic growth, building synergy with various sectors to enable tourism to realize its potential.
Some of the prominent circuits launched under this were the Buddhist tourist circle, Ambedkar Tourist Circle,and the North-East Tourist Circle.
A tourism circuit is a path that includes at least three popular tourist attractions that are not located in the same town, village, or city and are not far apart.
The 'Swadesh Darshan 2': (The revamped scheme)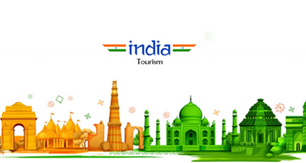 The Scheme is based on sites that have potential as tourist places and are to be launched in a phased manner.
The first phase of the scheme is going to start in January 2023.
Aim: The objective will move from 'theme-based tourist' circuits and focuses on 'revving up destination tourism'.
The scheme has been revamped with the mantra of "vocal for local".
Fund allocation: The Swadesh Darshan scheme is 100% centrally funded.
Sites selected:

Fifteen States are part of the first phase which includes Madhya Pradesh, Karnataka, Tamil Nadu, Uttar Pradesh, and Maharashtra.
Two destinations from each State have been identified by the Ministry of Tourism.

Some of the prominent places identified are;

Jhansi and Prayagraj in Uttar Pradesh,
Gwalior, Chitrakoot,, and Khajuraho in Madhya Pradesh and
Ajanta and Ellora in Maharashtra.

Earlier the Swadesh Darshan Scheme 2.0 has been revived to develop sustainable and responsible destinations with a tourist and destination-centric approach.