'United Arab Emirates celebrates its first mission at Mars'
Context
The United Arab Emirates has put a probe called Hope in orbit around the planet, making it only the fifth spacefaring entity to do so after the US, the Soviet Union, Europe and India.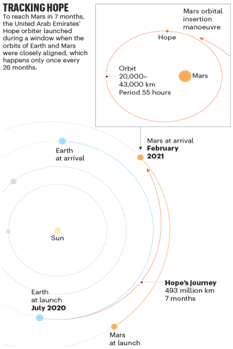 About
What is HOPE?
The unmanned probe — named "Al-Amal", Arabic for "Hope" — is a United Arab Emirates mission to Mars.
Hope launched from the Tanegashima Space Centernear Minamitane, Japan last year (July 2020).
The 1,350-kilogramme probe — about the size of an SUV — took seven months to travel the 493 million kilometres to Mars.
Hope is the Arab world's first mission to another planet.
Other Mars Missions
The other two Mars mission include- China's Tianwen-1 dual orbiter-rover and Perseverance from NASA, are also expected to reach the red planet.
Tianwen-1 means Questions to Heaven and comes from a poem written by Qu Yuan (about 340-278 BC), one of the well-known poets of ancient China.
The China's first mars probe 'Tianwen-1' has entered orbit around the Red Planet.
China's previous 'Yinghuo-1' Mars mission, had failed after it could not leave the Earth's orbit and disintegrated over the Pacific Ocean in 2012.
Hope and Tianwen-1 thereby made their respective countries the fifth and sixth earthly cultures to successfully reach red neighboring planet.
NASA's Perseverance rover is expected to land on the planet in the coming days.
A brief history of Mars Mission
The US, UAE (latest one), Russia, India and the EU have so far succeeded in sending missions to Mars regarded as the most complex space mission.
India became the first Asian country to have successfully launched its Mars orbiter mission Mangalyaan which has entered the orbit of the red planet in 2014.
India also became the first country to have entered the Martian orbit in its first attempt.
India's MOM (Mars Orbiter Mission) successfully achieved orbit in 2014 to image the entire planet, providing a unique perspective on its weather and surface features.
Significance of the mission
The mission will build a complete picture of Mars' climate, helping scientists better understand what Mars was like when its atmosphere could have supported life.
Its entry into Martian orbit paves the way for the probe's science mission, during which it will make observations of the planet's atmosphere, across all times and locations.
Rapid rise of UAE in space sector
The UAE's rise as a space power has been swift.
The country's first space venture was just 15 years ago, when it began work with the Satrec Initiative, a company based in Daejeon, South Korea, to build an Earth-observation satellite.
Last year, it announced plans to send a rover to the Moon in 2024.
Unlike the Emirates Mars Mission, which involved hundreds of Emirati engineers but saw Hope designed and built mostly in the United States, the rover is intended to be developed solely in the UAE.