World Sangeet Tansen festival organized in Madhya Pradesh
Context
The 97th edition of the World Sangeet Tansen festival started off in Gwalior on 25th December 2021.
About
About Tansen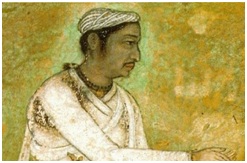 Mian Tansen (born 1493 or 1506 as Ramtanu Misra – died 1586 or 1589 as Tansen) was a prominent Indian classical music composer, musician and vocalist.
He is known for a large number of compositions, and also an instrumentalist who popularised and improved the plucked rabab (of Central Asian origin).
He was among the Navaratnas (nine jewels) at the court of the Mughal Emperor Jalal ud-din Akbar.
Akbar gave him the title Mian, an honorific, meaning learned man.
The Tansen ceremony
Every year in December, an annual festival, the Tansen Samaroh, is held in Gwalior to celebrate Tansen.
The Tansen ceremony was started in the year 1924 during Scindia's reign itself.
This is the 97th Tansen ceremony.
Key-highlights of 97th ceremony
The stage of the program has been constructed on the theme of the Siddhanath temple situated in
Many artists not only from India but also from abroad participate in the music festival.
The first seven concerts were held at the stage prepared at the mausoleum of Tansen and the tomb of Mohammad Ghaus.

The eighth concert will be held on the banks of the Jhilmil river, in Behat (Birthplace of Tansen) on December 30.
The last brief concert will be held at Gwalior Fort on the same day.