X-Ray Polarimeter Satellite (XPoSat)
Context
The Indian Space Research Organisation is collaborating with the Raman Research Institute (RRI), Bengaluru, and an autonomous research institute, to build the X-Ray Polarimeter Satellite (XPoSat) that is scheduled to be launched later this year.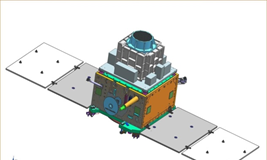 About
XPoSat (X-ray Polarimeter Satellite) is India's first dedicated polarimetry mission to study various dynamics of bright astronomical X-ray sources in extreme conditions.
The spacecraft will carry two scientific payloads in a low earth orbit.
Indian Space research Organisation (ISRO):
ISRO or Indian Space Research Organisation is India's space agency founded in 1969 to help develop an indigenous Indian space program.
It is one of the 6 largest space agencies in the world today.
ISRO maintains one of the biggest fleets of remote sensing (IRS) and communication (INSAT) satellites catering to the needs of the nation through a network of centres, offices, and research institutes in different parts of the country.
ISRO functions in the following areas: broadcasting, weather forecasting, disaster management, geographic information systems, navigation, cartography (maps), and telemedicine, distance education satellites, etc.