Kalanamak rice, 'Buddha's gift to people', is now small, strong
Context
Indian Agriculture Research Institute has successfully tested two new dwarf varieties of Kalanamak rice (Pusa Narendra Kalanamak 1638 and Pusa Narendra Kalanamak 1652) in Uttar Pradesh that give double the yield.
About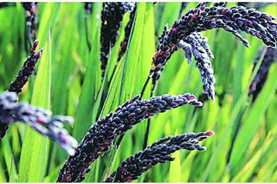 The Kalanamak rice:
Kalanamak is a traditional variety of paddy with black husk and a strong fragrance.
It has high salt content and overshadows basmati due to its agronomic potential.
Two dwarf varieties of Kalanamak rice are named;
Pusa Narendra Kalanamak 1638
Pusa Narendra Kalanamak 1652
The yield of the new varieties is double that of the traditional variety. The length of the old variety plant is 140 centimeters, and the new variety is between 95- 100 centimeters.
It is grown in 11 districts of the Terai region of north-eastern Uttar Pradesh and in Nepal.
The traditional variety of rice has been prone to 'lodging' which resulted in low yield and poor quality.
Lodging is a condition in which the top of the plant becomes heavy because of grain formation, the stem becomes weak, and the plant falls to the ground.
To overcome the problem of lodging, the Indian Agriculture Research Institute (IARI) has successfully developed two dwarf varieties of Kalanamak rice.
This rare rice has been awarded the Geographical Indication (GI) tag in 2013 which recognized Siddharthnagar and the adjacent districts for the tag.
Under the One District One Product (ODOP) Scheme, it has earned the Prime Minister's award for Excellence in Public Administration 2021.
It was featured in the book 'Speciality Rice of the World by the Food and Agriculture Organization (FAO) of the United Nations.
Significance:
The traditional Kalanamak rice is protected under the Geographical Indication (GI) tag system.
The traditional paddy variety Kalanamak, which has a black husk and a potent scent, is thought to have been a gift from Lord Buddha to the Sravasti people when he visited the area after attaining enlightenment.
Verifying, please be patient.