Legal restrictions on gene editing around the world:
Around the world, there's a patchwork of laws addressing the possibility of editing the genomes of the human embryo.

In Russia, germline gene modification for reproduction is not considered by the legislative legislation.

In Canada and many European countries, bans are quite strict.

In China, India, Japan, and Ireland bans existed but didn't necessarily have legal enforcement mechanisms behind them.

Indian protocols prohibit human germline editing and reproductive cloning, as detailed in the National Guidelines for Stem Cell Research by the Indian Council of Medical Research.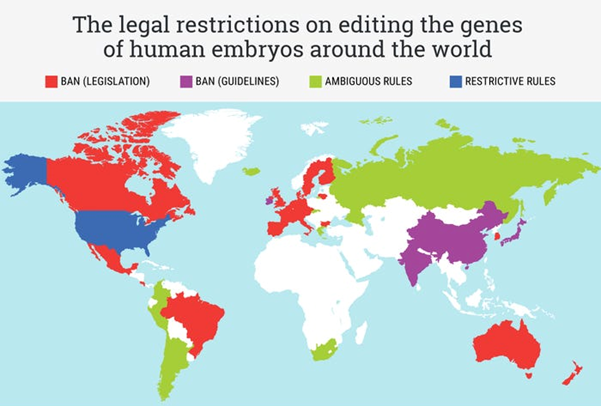 Regulation of genome editing techniques in India:
In India, genetically modified organisms and products thereof are regulated under the "Rules for the manufacture, use, import, export and storage of hazardous microorganisms, genetically engineered organisms or cells, 1989" (referred to as Rules, 1989) notified under the Environment (Protection) Act, 1986.

These Rules are implemented by the Ministry of Environment, Forest and Climate Change, Department of Biotechnology and State Governments through six competent authorities.

The Rules, 1989 are supported by a series of guidelines on contained research, biologics, confined field trials, food safety assessment, environmental risk assessment etc.

The definition of genetic engineering in the Rules, 1989 implies that new genome engineering technologies including gene-editing technologies like CRISPR/Cas9 and gene drives may be covered under the rules.
National Guidelines for Gene Therapy Product Development and Clinical Trials:
In a recent development, the Indian Council of Medical Research (ICMR) has framed national guidelines and regulations regarding the procedures and requirements to be followed for performing Gene Therapy in India.

Since this nascent field is emerging in India, the Government has proactively have come up with the National Guidelines for Gene Therapy Product Development and Clinical Trials to promote further research and streamline regulatory processes for future clinical trials using gene therapeutic products (GTPs).

As per the New Drugs and Clinical trial Rules (2019) the GTPs falls under 'new drug' and shall always be deemed to be 'new drug'.

Thus as per these rules framed jointly by Indian Council of Medical Research and Department of Biotechnology (DBT), 'academic trials' are not applicable to clinical trials using GTPs.
Gene Therapy Advisory and Evaluation Committee (GTAEC):
The Government has also proposed to establish the Gene Therapy Advisory and Evaluation Committee (GTAEC) anchored at ICMR.

GTAEC shall be an independent body of experts representing diverse areas of biomedical research, concerned government agencies and other stakeholders.

This committee will be composed of a core group of scientists and clinicians in the sector, as well as representation of the government agencies (ICMR, DGHS, CDSCO, DBT, DST, MCI).

For each disease area in GTP trials, specific clinical consultants with extensive disease-specific expertise will be co-opted to aid in the decision-making process.