Government launched automated online data transfer to monitor PLI scheme for auto sector
Context
The Ministry of Heavy Industries launched automated online data transfer for capturing critical data related to domestic value addition in the Production Linked Incentive (PLI) scheme for the auto sector.
Background
The government has approved the Production Linked Incentive (PLI) Scheme for Automobile and Auto Component Industry in India (PLI-Auto) for enhancing India's manufacturing capabilities for Advanced Automotive Products (AAP) with a budgetary outlay of Rs 25,938 crore.
The scheme has been successful in attracting proposed investment over a period of five years.
About
The new system will capture data from PLI applicant's ERP (Enterprise Resource Planning) system to PLI auto portal.
All approved applicants of the PLI Scheme have their own ERP system.
ERP is a type of software that organisations use to manage business activities.
The IT-enabled system has been devised to enable smooth transfer of data from the applicant's existing ERP system to PLI Auto portal of MHI in a safe environment.
The Application Programming Interface (API) will get embedded with ERP system of the applicant and will enable automaticity and paperless processing in this scheme.
This facility eliminates that voluminous paperwork by bringing in automation.
Thus, this IT-enabled system will reduce the compliance burden on the part of the applicants and it will enable faster processing.
Production linked Incentives
The PLI scheme was conceived to scale up domestic manufacturing capability, accompanied by higher import substitution and employment generation.
The government has given Rs 1.97 lakh crore under the PLI schemes for various sectors and an additional allocation of Rs 19,500 crore was made towards PLI for solar PV modules in Budget 2022-23.
Launched in March 2020, the scheme initially targeted three industries:

Mobile and allied Component Manufacturing
Electrical Component Manufacturing and
Medical Device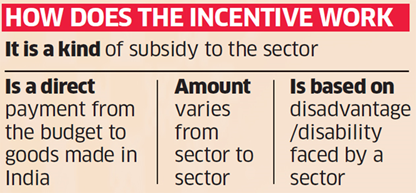 Sectors for PLI Scheme have been announced:
So far, the government has announced PLI schemes for 14 sectors including;

Automobile and auto components,
Electronics and IT hardware,
Telecom,
Pharmaceuticals,
Solar modules,
Metals and mining,
Textiles and apparel,
White goods,
Drones, and
Advanced chemistry cell batteries.

Verifying, please be patient.