What are genome editing and CRISPR-Cas9?
These technologies allow genetic material to be added, removed, or altered at particular locations in the genome.

Several approaches to genome editing have been developed. A recent one is known as CRISPR-Cas9, which is short for 'clustered regularly interspaced short palindromic repeats' and 'CRISPR-associated protein 9'.

It refers to a kind of molecular construct bacteria use to defend themselves from viral invaders.

The CRISPR-Cas9 system has generated a lot of excitement in the scientific community because it is faster, cheaper, more accurate, and more efficient than other existing genome editing methods.

CRISPR-Cas9 was adapted from a naturally occurring genome editing system in bacteria.

The bacteria capture snippets of DNA from invading viruses and use them to create DNA segments known as CRISPR arrays.

The CRISPR arrays allow the bacteria to "remember" the viruses (or closely related ones).

If the viruses attack again, the bacteria produce RNA segments from the CRISPR arrays to target the viruses' DNA.

The bacteria then use Cas9 or a similar enzyme to cut the DNA apart, which disables the virus.

The CRISPR-Cas9 system works similarly in the lab. Researchers create a small piece of RNA with a short "guide" sequence that attaches (binds) to a specific target sequence of DNA in a genome.

The RNA also binds to the Cas9 enzyme. As in bacteria, the modified RNA is used to recognize the DNA sequence, and the Cas9 enzyme cuts the DNA at the targeted location.

Although Cas9 is the enzyme that is used most often, other enzymes (for example Cpf1) can also be used.

Once the DNA is cut, researchers use the cell's own DNA repair machinery to add or delete pieces of genetic material, or to make changes to the DNA by replacing an existing segment with a customized DNA sequence.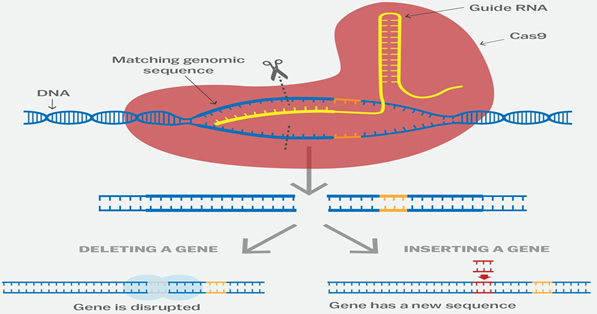 Other approaches to genome editing:
Apart from CRISPR, there are several approaches to genome editing such as Zinc finger nuclease-based engineering, TALEN, and CRISPRs, Mega nuclease-based engineering.
Meganucleases: Meganucleases, discovered in the late 1980s, are enzymes in the endonuclease family, which are characterized by their capacity to recognize and cut large DNA sequences (from 12 to 40 base pairs).
As opposed to meganucleases, the concept behind ZFNs and TALEN technology is based on a non-specific DNA cutting enzyme, which can then be linked to specific DNA sequence recognizing peptides such as zinc fingers and transcription activator-like effectors (TALEs).

Zinc-finger nucleases (ZFNs) are artificial restriction enzymes generated by fusing a zinc finger DNA-binding domain to a DNA-cleavage domain.
Transcription activator-like effector nucleases (TALENs) are artificial restriction enzymes generated by fusing a specific DNA-binding domain to a non-specific DNA cleaving domain.
What is DNA?
Deoxyribonucleic acid (DNA) is the hereditary material in humans and almost all other organisms. Nearly every cell in a person's body has the same DNA.

Most DNA is located in the cell nucleus (where it is called nuclear DNA), but a small amount of DNA can also be found in the mitochondria (where it is called mitochondrial DNAor mtDNA).

Mitochondriaare structures within cells that convert the energy from food into a form that cells can use.



The information in DNA is stored as a code made up of four chemical bases:

adenine (A)

guanine (G)

cytosine (C)

thymine (T)

DNA bases pair up with each other, A with T and C with G, to form units called base pairs. Each base is also attached to a sugar molecule and a phosphate molecule.

Together, a base, sugar, and phosphate are called a Nucleotides are arranged in two long strands that form a spiral called a double helix.

The structure of the double helix is somewhat like a ladder, with the base pairs forming the ladder's rungs and the sugar and phosphate molecules forming the vertical sidepieces of the ladder.

An important property of DNA is that it can replicate, or make copies of itself.

Each strand of DNA in the double helix can serve as a pattern for duplicating the sequence of bases.

This is critical when cells divide because each new cell needs to have an exact copy of the DNA present in the old cell.

Verifying, please be patient.