How to prepare for Tribes, Peasants and caste movement topics of History Portion for UPSC examination?
History as subject play a very important role in both prelims and mains stage of the civil services examinations. In history, one of the key aspect for covering overall subject of History are the questions related to Tribes, Peasants and caste movement topics. History as subject require different dimensional approach as compare to any other subject, as history subject is quite static in nature which requires remembering events and their chronology.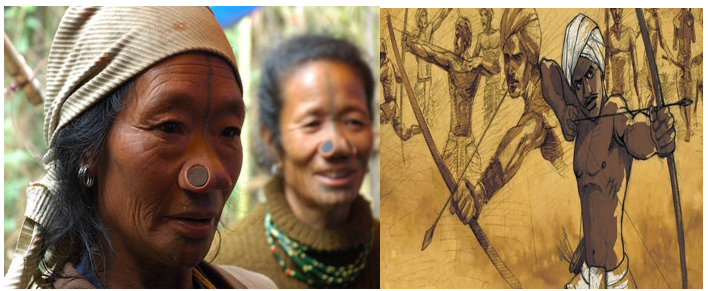 Every year, majority of history questions in both prelims as well as mains comes from Tribes, Peasants and caste movement topics. Aspirants, need to work on certain important components to deal with any googly that can be put forward by UPSC in the form of questions from topics like tribes, peasant movements and caste related upheaval. There are certain ways in which majority of the questions related to History topics can be prepared and solved.
Develop own Notes:
In order to cover all important Tribes, Peasants and caste movement topics, aspirants are advised to formulate their own notes rather than going for collection process of books/handouts of these topics. Making your notes will definitely help aspirants in recalling the topics during the process of examination.
Collection of notes in handwritten form will also help from the revision point of view as revision holds the key when it comes to selection in the civil services examination. The more frequently, when you revise your notes the better the chances will be of yours to commit less mistakes.
Peasant Movements

Details of the Movements

1. Indigo Revolt (1859-60)

2. Kol Rebellion (1832)

Indigo Revolt also known as 'Nil Bidroho'This indigo revolt gave birth to a political movement and stimulated national sentiment against the British rulers among Indian masses.
The Kol tribal planned to strike in the year 1831-32 which was engaged primarily against Government officers and private money-lenders. The handover of tribal lands and the encroachment of moneylenders, merchants and British laws generated a lot of pressure on Kol Tribes Community.
Learn Art of Interlinking Topics:
Aspirants are also advised to learn art of interlinking of topics like how different topics can be interlinked e.g. when you are reading about the Land Reforms policies of British-India then you should focus in the backdrop of issues like Peasant Upheavals, tribes disintegration laws, so that you can understand overall perspective of different issues.
Link whatever you have read in History with each other for example; the British came to India as trader but disintegration made them ruler and they introduces far-reaching changes into administrative, legal, social and religious arena. Develop this skill then see the changes in your preparation in terms of having command on subjects like these, which is considered to be tough by majority of the aspirants.
Develop your Interest in the Subject:
As it is being said "The best time to plant a tree was 20 years ago; the second-best time is now" so, whatever you have done is done now. The best moment for you now is today. Aspirants should develop their own interest in the subject then only they can score well. As far as preparation of topics like of Tribes, Peasants and caste movement are concerned; aspirants are advised to learn these topics by visualising the circumstances under which these events might have happened.
If you are not interested in history, you may find studying it difficult. It is not a scoring subject when you compare it to science or maths. You do need to remember a few dates and names in history. A good memory is required to ace history. Look through example, if I ask that; what were the factors that led to different peasant's revolt? , then, your answer should have following words:
Peasants were forced to evict their own lands
British-India increased revenue collection as land rent from the peasants
Moneylenders committed Atrocities on the peasants
Peasants' traditional handicrafts were ruined through Industrial Revolution made products
Understand Significance of these Movements/ Events:
Aspirants are advised to diversify their thinking pattern and approach of understanding the topics related to History like, how tribes /castes/peasants movements impacted Indian Society as these disintegration and Upheaval brought:
Awareness among the Indians:
Though these revolts were not aimed at uprooting the British rule from India, they created awareness among the Indians.
Revolts/ Upheavals developed a strong awareness of their legal rights and asserted them in and outside the courts.
Inspired other Revolts:
These Revolts/Upheavals act as developing sense of need to organise and fight against exploitation and oppression.
These rebellions prepared the ground for various other uprisings such as Sikh Wars in Punjab and finally the Revolt of 1857.
Like, as has been said above, aspirants need to have their own understanding and should have courage to go beyond their comfort Zone. Aspirants can prepare for the History through approach of concept building and clearing all the topics related to peasants/castes/tribes topics one by one. Work hard and be courageous to take tough decisions related to your preparation strategy.