Why is it important to know where you stand before your Prelims Exam?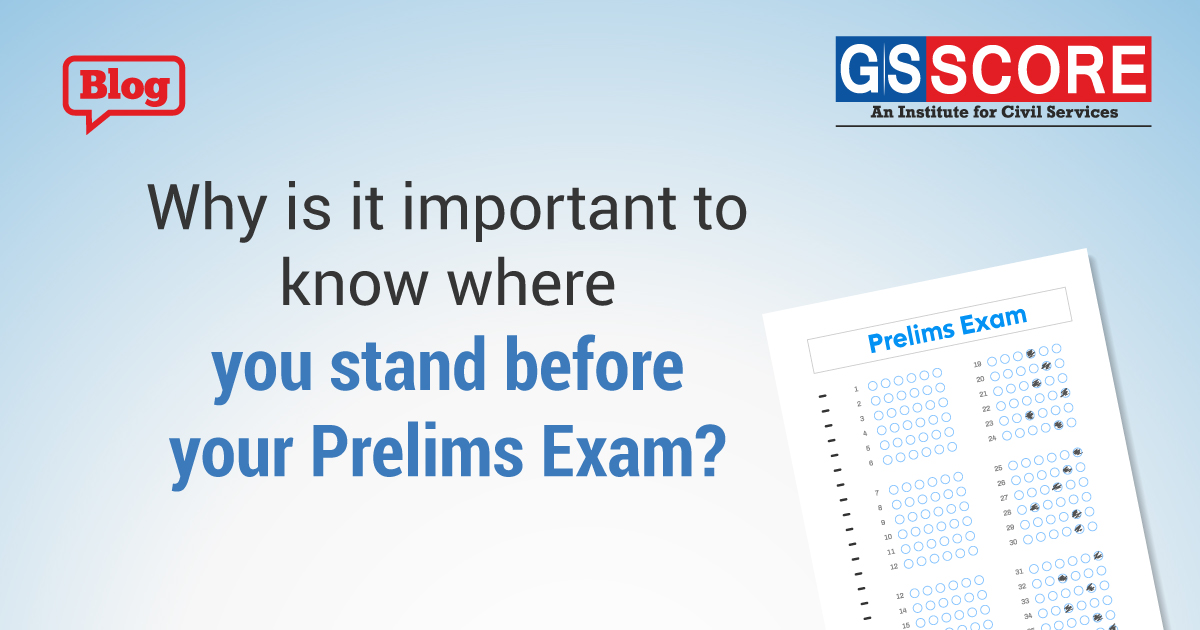 Union Public Service Commission conducts a three stage process Civil Services Examination, i.e., Prelims, Mains and Personality Test. Among these three stages Prelims is the first and most unpredictable stage. Preparation and general ability skills both cumulatively decide whether someone will clear the first stage or not. So, it becomes very important to know where you stand at your preparation before Prelims Examination along with you should know your position at solving previous year and various mocks and how you can handle the situation.
GS Score has introduced 10 All India Open Mock tests which provide you All India Ranking where you stand among others before the prelims day. It's better to know your stock of ammunition and rivals' stocks before the battle. All India Open Mock tests are available online which will provide you with All India ranking among the students appearing from various different cities of India. UPSC Prelims is examination of knowledge along with problem solving mindset, in these mock tests we have tries to include questions from various level from basics to advanced level which will incorporate and widen the scope for the aspirants to examine where they stand at your preparation.
Along with various level questions, the questions are framed in such a manner that your problem solving ability will not only be checked but also it will improve. A detailed performance analysis will help you to build up your missing and overlooked concepts and help you to improve your problem solving ability in the examination hall.


Proper analysis of these tests has the potential to guide you in the examination hall to tackle difficult and tricky questions which can decide your name in the final list. Gradually UPSC is becoming more unpredictable, thus, it is very difficult to guess the areas where UPSC will focus on. After analyzing previous years question paper thoroughly GS Score has prepared few sets of question aligned with UPSC pattern and topics that UPSC prefers in recent times while framing the question. We hope your hard work and dedication along with these All India Open Mock Tests will help you to stand in a better position as you are at right now not only in mock tests but also in final list.