Ahom warrior Lachit Borphukan and the battles of Alaboi & Saraighat
Context
Chief Minister of Assam had announced a number of projects in connection with the 400th birth anniversary of Lachit Borphukan.
About
About Lachit Borphukan:
About Ahom Kingdom:
The Ahom dynasty (1228–1826) ruled the Ahom kingdom in present-day Assam, India for nearly 598 years.
The dynasty was established by Sukaphaa, a Shan prince of Mong Mao who came to Assam after crossing the Patkai Mountains.
The rule of this dynasty ended with the Burmese invasion of Assam and the subsequent annexation by the British East India Company following the Treaty of Yandabo in 1826.
In external medieval chronicles the kings of this dynasty were called Asam Raja, whereas the subjects of the kingdom called them Chaopha, or Swargadeo


About Battle of Alaboi (1669):
About Battle of Saraighat (1671):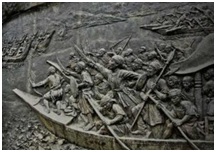 The battle of Sarai Ghat was one of the most significant warfares in medieval India.

The Battle of Saraighat was a naval battle fought in 1671 between the Mughal Empire (led by the Kachwaha king, Raja Ram Singh I), and the Ahom Kingdom (led by Lachit Borphukan) on the Brahmaputra river at Saraighat, Guwahati, Assam.
Although weaker, the Ahom Army defeated the Mughal Army by brilliant uses of the terrain, clever diplomatic negotiations to buy time, guerrilla tactics, psychological warfare, military intelligence and by exploiting the sole weakness of the Mughal forces (navy).

The Battle of Saraighat was the last battle in the last major attempt by the Mughals to extend their empire into Assam.

Though the Mughals managed to regain Guwahati briefly later after a Borphukan deserted it, the Ahoms wrested control in the Battle of Itakhuli in 1682 and maintained it till the end of their rule.
Verifying, please be patient.