CSE-trained Professionals prepare India's first Rural Water and Sanitation Safety Plan
Context
The Brahamandiha water and sanitation safety plan was launched in 2021 for the Brahmandiha Gram Panchayat of Bankura district in West Bengal.
About
About Water and Sanitation Safety Plan (WSSP):
Water and Sanitation Safety Plan (WSSP) Process:
The WSSP preparation involved a five-fold process: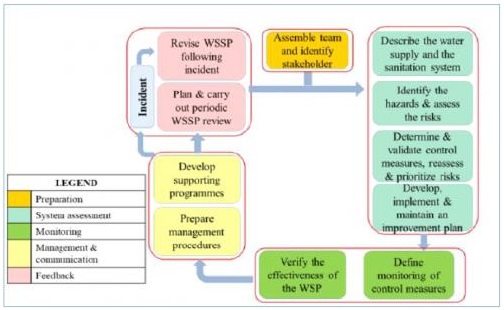 Preparation:

The boundary of WSSP was defined, with objectives and indicators for monitoring.

System assessment:

Risk assessment was carried out using a Risk Score Matrix based on two parameters:

Frequency of hazard occurrence

Public health impact severity.

Monitoring:

Eight objective indicators were laid to judge the plan effectiveness.

Usage of technology through Smart Water Management was designed to capture the output result for a few laid parameters.

Management and communication:

A standard operating procedure was developed to define control measures and what needs to be done to control the risk.

Communication for implementation of the programme for behavioural change and strengthening governance of the gram panchayat was laid down.

Feedback:

A review and its updating process were defined for effectiveness of the WSSP.
About Centre for Science and Environment (CSE):
Centre for Science and Environment (CSE) is a public interest research and advocacy organisation based in New Delhi.

CSE researches into, lobbies for and communicates the urgency of development that is both sustainable and equitable.

CSE's Rural Water and Sanitation programme works with its sights on three key thematic areas:

Equitable access to clean water and sanitation for all:

To ensure this, the programme initiative focuses on alternative paradigms of water supply and sanitation, such as rainwater harvesting, decentralised water supply, etc.

The effort is to develop strategies for building technical capacity to implement projects on these alternative paradigms.

Alternative wastewater management technologies for pollution control:

Designed to find ways to combat the problem of pollution and resultant health burden on the poor, this initiative acknowledges the inter-linkages between water and sanitation strategies.

It focuses on research and evidence-based advocacy on decentralised wastewater management technologies to make them affordable and sustainable.

Policy guidelines for moving towards sustainable rural sanitation:

This involves researching and reporting on, and documentation of, best practices on rural sanitation, so that water and waste management strategies work for livelihood and health.
Verifying, please be patient.